The Art and Science of Home Brewing Kombucha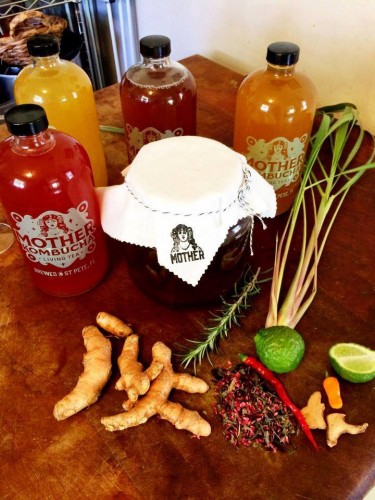 Join us here at Sweetwater Organic Community Farm for a riveting two hour workshop which will introduce you to the basic philosophy and concepts behind fermentation, as well as provide you with all the basic information needed to brew your own living Kombucha tea at home! This workshop includes a kombucha tasting, exemplifying how to flavor your Kombucha! The class will be lead by Joshua D. Rumschlag, master formulator and co-owner at Mother Kombucha.
After being inspired by Sandor Katz at a Miso Workshop in the late 90s, Joshua D. Rumschlag began his foray into fermentation. He toyed with fruit wines and eventually found kombucha. His home brewed kombucha became a prized treat at parties and potlucks. While a stay-at-home dad, he teamed up with a stay-at-home mom with a dream of a local commercial kombucha company. Mother Kombucha was born. Now, when not formulating energetically-balancing-yet-tasty new kombucha flavors, he is fermenting meads, sauerkraut, and kimchi with his son, or helping folks as a Clinical Herbalist.
The cost of the class is $20, and kits will be available for sale in the amount of $35 after the workshop!
Learn more at: https://www.eventbrite.com/e/the-art-and-science-of-home-brewing-kombucha-tickets-43058748877