SAVING SEEDS of Vegetables For Food Security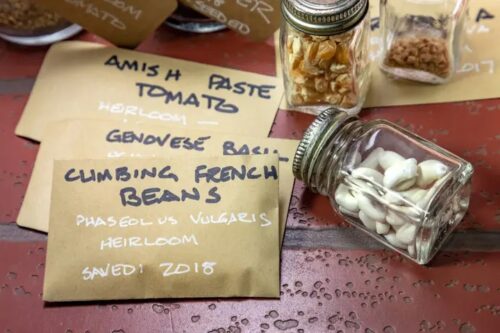 Grow Your Own Vegetable Seeds Workshop
Learn to save seeds of vegetable varieties in a time of seed scarcity.
Since the pandemic started, it seems the seed companies can't keep seeds in stock. In 2020, the seed reserves quickly disappeared as people foresaw potential food shortages and raided the seed shelves in stores. Everything was out of stock on the seed company websites. Wouldn't this have been the perfect time to have a reserve of your own vegetable seeds so you wouldn't have to worry about starving to death, or worse, not being able to grow a bed of cool super colorful hot peppers in your front flower bed? Seed saving is not nearly as mysterious as it may seem, you just have to learn a few basic skills.
This class will introduce you to the basics of seed saving. What veggies are the easiest to save seeds of? Where the heck are the seeds on that vegetable and how do you get them? How long do seeds of different veggies remain alive? How do you store seeds for long life? How do you save seed without the vegetable crossing with something else and being tasteless or not what you wanted?
Every kind of vegetable is unique, and each has its own unique method for saving seed. You'll learn the difference in this class. Seed saving is not only economical and a great prepper skill, it opens the door to easily growing the best tasting vegetable varieties that humanity has to offer, heirlooms. Grow the Mortgage Lifter tomato, the Moon and Stars watermelon, or the Country Gentleman Sweet Corn by saving seeds.
Please wear a mask and social distance during the class and while on the farm. Thank you!
Instructor:
Dan Durica has been gardening since the age of 7, has maintained organic gardens for pretty much every season since, and has been teaching seed saving classes for over 20 years. He's worked on organic farms and currently tends an organic permaculture vineyard. He lives at Dancing Rabbit Ecovillage where he grows a lot of his own vegetables, lives in a strawbale house, and gets most of his power from the sun. He has a Youtube channel called Hardcore Sustainable with over 27K subscribers where you can find out how he lives his everyday life in an ecovillage.
Course size limit 15.
Course duration: 2 hrs.
Cost $35 for regular, $15 for low income
March 14th 1-3:00PM