Live Music w/ Wendy Barmore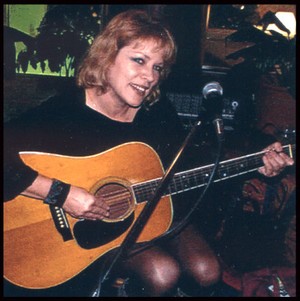 Noon to 1 pm Wendy Barmore
Wendy entered the New York music scene while still in her teens, playing regularly in many landmark clubs. Teaming with Michael Bonagura and Alan LeBoeuf, this popular trio toured the Tri-State New York area, entertaining crowds in local and large venues in the early '70s.
During her college years in Missouri,  Wendy loved playing at coffeehouses and other venues in before returning to New York, where she then formed the band "Paragon" with Godfrey Nelson and co-wrote songs with Lynne Robinson.
The late '70s/early '80s took Wendy to Los Angeles where she played solo, duo and band gigs, and became a part of "Pickering and McClure". The band consisted of Nigel Pickering (from "Spankie and Our Gang") and the renowned singer/songwriter/steel guitarist Marc McClure. Some of the popular venues they played were the Palomino, The Troubadour, Topanga Canyon's, and more. She also toured with Cecilio and Kapono, eventually co-writing with Dore Rovinsky, who is still collaborating with her.
In the early 1990s,  she returned to New York City to write and play at many clubs in the Manhattan district while raising her young son. And then, the desire to live in a warmer climate and be close to her family brought her to Florida where she continued playing in the Ft. Lauderdale/Miami area.
Now residing in the beautiful city of Dunedin, she continues to write and perform regularly. Her 2011 CD, "Ride," was a collaboration with guitarist Johnny Greenwell.
Website: Wendyrox.com
Email: wendy@orangeblossomcg.com
Her album "RIDE" is available at http://www.cdbaby.com/Artist/WendyBarmore.