Live Music w/ Wendy Barmore & Hannah's Whirl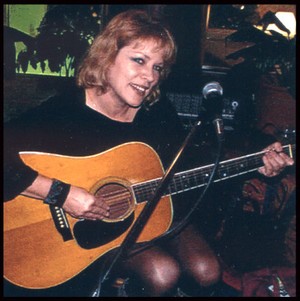 noon: Wendy Barmore
Wendy entered the New York music scene while still in her teens, playing regularly in many landmark clubs. Teaming with Michael Bonagura and Alan LeBoeuf, this popular trio toured the Tri-State New York area, entertaining crowds in local and large venues in the early '70s.
During her college years in Missouri,  Wendy loved playing at coffeehouses and other venues in before returning to New York in the mid-'70s, where she then formed the band "Paragon" with Godfrey Nelson and co-wrote songs with Lynne Robinson.
The late '70s/early '80s took Wendy to Los Angeles where she played solo, duo and band gigs, and became a part of "Pickering and McClure" (later renamed "Stinson Reliant"). The band consisted of Nigel Pickering (from "Spankie and Our Gang") and the renowned singer/songwriter/steel guitarist Marc McClure. Some of the popular venues they played were the Palomino, The Troubadour, Topanga Canyon's, and more. She also toured with Cecilio and Kapono, eventually co-writing with Dore Rovinsky, who is still collaborating with her.
In the early 1990s,  she returned to New York City to write and play at many clubs in the Manhattan district while raising her young son. And then, the desire to live in a warmer climate and be close to her family brought her to Florida where she continued playing in the Ft. Lauderdale/Miami area.
Now residing in the beautiful city of Dunedin, she continues to write and perform regularly. Her 2011 CD, "Ride," was a collaboration with guitarist Johnny Greenwell.
Website: Wendyrox.com
Email: wendy@orangeblossomcg.com
To purchase Wendy's CD "RIDE", visit http://www.cdbaby.com/Artist/WendyBarmore.
1 pm Hannah's Whirl
Paul Arnone, singer-songwriter and native Floridian, is a painter, graphic artist, professional photographer, video producer and musician.
Tami Wingard is also a native Floridian, having grown up in the orange grove country of west central Florida. Tami has been singing since she was a child, when she kept her AM transistor radio pressed to her ear. Tami played clarinet in the high school band, and has since expanded her musical abilities to include the mandolin, harmonica and various percussive instruments. She sang with local bands in Tampa prior to joining Paul in 2003.
Paul and Tami travel the state of Florida playing the seasonal festival circuit as the contemporary folk duo Hannah's Whirl.
Both Paul and Tami work as medical professionals at Moffitt Cancer Center in Tampa. In their work, they share the uncommon experience of dealing daily with people who must fight the toughest of fights or bear the weight of the most unspeakable sadness. Witnessing the lives of these people keeps Paul and Tami focused on the things that are most important in life.
Paul's original songs range from "Florida" songs and environmental awareness to personal, family and spiritual relationships. His lyrics are subtle and moving, with a keen sense of the power of the spoken word. The songs are often poetic and visually graphic, highlighting the nuance of an event. His sense for the visual and his powerful spiritual awareness fuel the fire of his musical creativity.
Their acoustic music is guitar driven, augmented with vocal harmonies and instruments including mandolin, harmonica, clarinet and percussion.
Tami's strong vocal skills and musical sensitivity give her the ability to create unique harmonies. These, coupled with Paul's evocative lyrics, give Hannah's Whirl its sweet and sometimes haunting sound.