Live Music w/Jenny James & the Stray Dog String Band plus Bob Anthony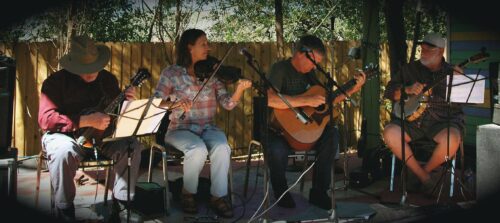 noon: Jenny James & the Stray Dog String Band
Jenny is one of the founding three Sweetwater Sisters who began the music series here at Sweetwater Farm, and we're delighted to have her and her band on stage for some great old timey music!
The Stray Dog String Band is comprised of four accomplished musicians who have  decided to let their hair down and play rip-roarin', foot-stompin' old-time barn dance music. Old Joe Clark on steroids. Bet you can't help but dance.
1 pm Bob Anthony
From his many years with Tallahassee rock legends The Casual Ts to many live performances ranging from the avant-garde to musical theater to his 21st Century stints as frontman for Tampa Bay bands The Smoking Jackets, Silent Jones, and Botomatics, Bob Anthony has found many a platform for his command of and love for several musical styles, prompting Creative Pinellas to proclaim him one of our best local singer-songwriters.
On his own, Anthony employs his chameleonic musical skills from  retroish pop-n-roll  to epic story-songs. His forte, though, may be the many instrumental flavors that spice a solo performance, whether haunting and atmospheric, rousing and ragtime or full of dense textures and improvisations.  Several of these pieces are collected on the all-instrumental Anthology CD, which Focus called a real treat for guitar lovers.  Anthony also likes to throw in a few songs he wished he'd written to answer the dreaded Hey, man, play something we know!
The Largo native has graced many stages throughout the Tampa Bay area and beyond, opened for national acts such as Slobberbone, Kevin Kinney , Alejandro Escovedo, David Dondero, Alex Chilton, The Replacements, played alongside Florida roots-rock legend Charlie Pickett, Acho Brother, SHIM, and has received considerable airplay on Tampa's WMNF-FM 88.5    Focus lauds Anthony's guitar mastery and classic songwriting smarts while the Tallahassee Democrat calls his music intricately beautiful "to watch him play is to be fascinated and ultimately enchanted" .