Live Music Series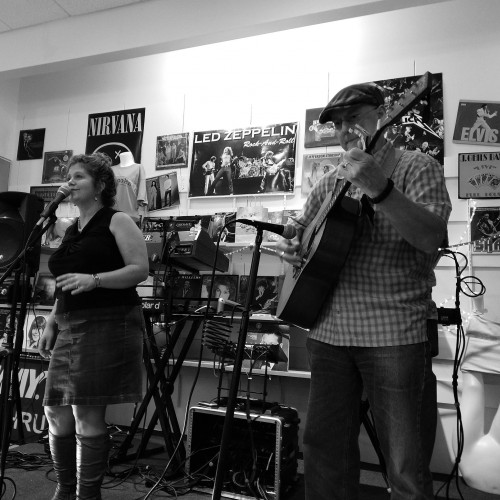 noon : Barb + Craig
Barb + Craig is an acoustic indie duo comprised of vocalist Barbara Ness and guitarist Craig Pethe'. They enjoy performing stylistically unique, folk-inspired original music as well as covers from a variety of genres including folk, country, bluegrass, Americana, rock and classical ballads.
1 pm : Oak Ramble
Oak Ramble is a Tampa-based acoustic trio comprised of Jeremy Willis, Nader Issa and Joe Trivette.
Jeremy Willis is a guitarist/singer songwriter with a mix of both cover tunes and original compositions. He blends up tempo foot stompers and emotional thought provoking tearjerkers, interpreting anything from Bluegrass or 80's/90's Punk Rock to Classic Rock, Jazz and beyond. When he's not spending late nights with friends and family jamming around a fire, he's playing a wide range of venues and events,  from art galleries to breweries,  music festivals to Skipper's Smokehouse.
Nader Issa is a classically trained bassist/vocalist with fluency in a variety of styles and techniques. His up-tempo pizzicato boogie riffs and heartwarming bow work showcase the versatile voice of the upright bass. His love and formal knowledge of Jazz, Classical, and contemporary music is apparent every night: Skipper's Smokehouse, New World Brewery, even his performances with Jobsite Theater stand as testament.
Joe Trivette began playing the violin at age 11, and learned guitar, banjo and mandolin soon after. When Oak Ramble welcomed him into the fold, he brought his mandolin. Joe and Jeremy met in 2006 while studying music theory, became fast friends, and have made music together ever since.  Joe has spent the majority of his life playing in orchestras and bluegrass bands. You may have seen him during his tenure with the Florida Mountain Boys, or you may recognize him as the long-standing fiddle player for the Applebutter Express. He has performed at the Bonnaroo Music and Arts Festival,  the Spirit of the Suwanee Music Park, clubs and breweries around the country, and recorded at Sound Emporium Studios in Nashville,TN.
Combining instrumental rapport with engaging vocal harmonies, Oak Ramble delivers a sound that is something truly special, a. unique combination of influence and originality coupled with a positive and fun loving attitude.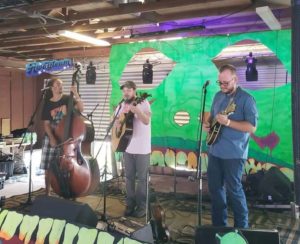 2-4 pm open mike