Live Music Series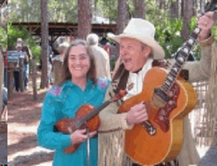 1:30- Crabgrass Cowboys
Hang on to your ten gallon hats and click your spurs – the Crabgrass Cowboys and riding back into town!
Hapi McKenzie – Guitar, Vocals. Patty Pfister – Violin, Vocals. This group has played all over the south for 25+ years, including music festivals, Skipper's Smokehouse, Tropicana Field, just to name a few. They have a special affinity for music legend Gram Parsons and composed the title track, "Fire in the Desert" for the movie concerning his untimely demise. They are frequently featured at GramFest and the Gram Parsons Memorial Guitar Pull in Waycross Georgia, and even won the Brass Buttons award at a recent festival.
Bob Forest 12:30
Bob's group Dumb Blind Luck has been playing locally since the late 90's. Cookie, Bob and Mike arrived from San Francisco. Tony hails from Cuba via Spain.
They have recorded a CD titled "What's The Deal", available on iTunes, and a live CD "Live From Earth" available at their shows.