Live Music Series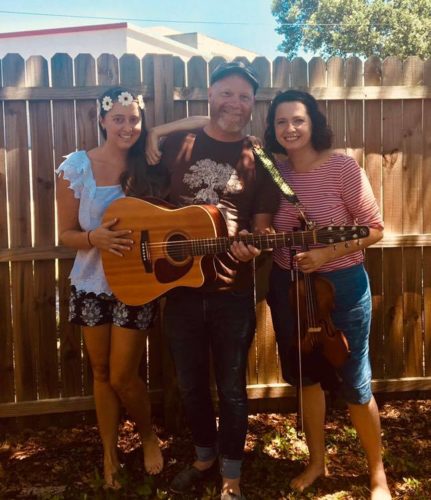 Forest Echo 12:30
An acoustic original folk-pop trio featuring Rebecca Zapen on vocals, violin, guitar, and ukulele, with varying instrumentation including double bass, drums, trombone, trumpet, clarinet, piano, and melodica.  You'll hear  traditional jazz and bossa nova and original songs from Rebecca's remarkable repertoire.
A third-generation musician in a family tree including players of violin, piano, double bass, guitar, and accordion, Rebecca Zapen is  a versatile performer: classically-trained violinist, jazz crooner, and award-winning multi-instrumentalist songwriter. Her most recent  folk-pop release, Nest, was awarded Florida Album of the Year 2011 by the Florida Times-Union.
Honors and accolades for Zapen's previous works include Best Album & Best Song (cabaret genre) in the Just Plain Folks Awards 2009, for folk-pop album Japanese Bathhouse, receiving 5 nominations.
Other highlights include appearances as jazz vocalist with the Hollywood Philharmonic Orchestra, and as the mandolin soloist in Jacksonville Symphony Orchestra's production of Mozart's opera Don Giovanni. She is an award-winning composer, earning the Silver Medal of Excellence for Best Use of Music in a Short Film at the 2008 Park City Film Music Festival.
Her versatile violin playing, pure clear voice, and ability to write nostalgia-infused music have earned her comparisons to Astrud Gilberto, Suzanne Vega, Leonard Cohen, and The Ditty Bops. Her influences include Stephane Grappelli, Antonio Carlos Jobim, Chet Baker, and Nick Drake.
Rebecca's "dreamy, ethereal vocals swoon and sweep atop sublime melodies and infectiously charming lyrics, instantly hypnotic and effortlessly charming" (Subba-Cultcha UK). Accompanying herself on ukulele, guitar, and violin, Zapen's music is "mellow, creative, happy, and smart" (Celebrity Cafe).
Celtic Calling – 1:30 pm
John Papos Frassica, one of Tampa Bay's finest troubadours, leads this ensemble dedicated to presenting celtic music both traditional and contemporary. Joined by Gloria Michelle Lagrandier on vocals and Bill Lagrandier on drums , Celtic Calling will wrap you in memorable melodies and foot-stomping tunes.