Live Music Series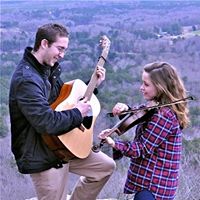 Well Worn Soles – noon plus Dean Johanesen & 24 Hour Men at 1 pm
Well Worn Shoes are the duo Chelsea Dix-Kessler, a native of Sopchoppy, Fla., and Emerson Wells-Barrett, of Austin, Texas. They met while enrolled in the Bluegrass, Country Music, and Old-Time program at East Tennessee State University. There was an obvious connection between the two after the performance of "Big Red Fire," the first song they ever sang together and the second original track on their debut CD, Country/folk.
Listen as their voices weave and twine with grace and humor. You'll hear echoes of George & Tammy, Johnny & June, and Loretta & Conway. The chemistry between them is clear, their live performances dynamic, their connection palpable.
Accompanying themselves on a variety of instruments (guitars, fiddle, mandolin),
their gifts of natural musicality are apparent. The music references vintage roots, the lyrics speak to age-old themes, but the language Wells-Barrett uses in his writing is determinedly unusual, yet quickly endears itself to the listener. Young folks; old souls. Meet Well Worn Soles.
Dean Johanesen and the 24 Hour Men – 1 pm
A gifted songwriter and performer, Dean has begun to traverse classic swing and gypsy jazz territory with the able help of his trio, the 24 Hour Men,  presenting foot-tapping music that is at once familiar yet fresh. Joining Dean are Max Kelly – percussion
Mark Pezzo – upright bass and vocals
Their performances are infectiously energetic and not to be missed – Django would be proud!