Live Music Series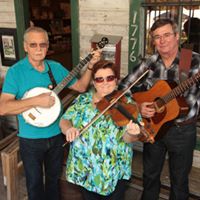 12 noon Just In Time Old Time String Band
All the way from the East coast of Florida, Just In Time is an Appalachian Mountain String Band founded in 2008.  They have won awards for banjo, fiddle, singing, string band and for teaching and promoting Old Time music in Florida.
Ron Whisler plays clawhammer style banjo, guitar and sings.
Carol Whisler plays fiddle, guitar and sings.  She is also President of the Florida State Fiddler's Association.
They teach workshops all over the State and run a free music school at the Barberville Pioneer Settlement.
1 pm Simple Gifts
Out of Tampa, Florida, Simple Gifts is famous for its lively, rousing renditions of trad tunes, as well as original Florida songs written by Cheryl Belanger. Simple Gifts has played the Florida Folk Festival for 25 years, as well as Will McLean and the Pinellas Folk Festival. They trade instruments like thieves trade horses… autoharp for banjo, guitar for hammer dulcimer, fiddle for flute, mandolin for six string guitar. And the bass keeps everyone in line!