Live Music Series- Lee and Betsy Paulet/Bill and Eli Perras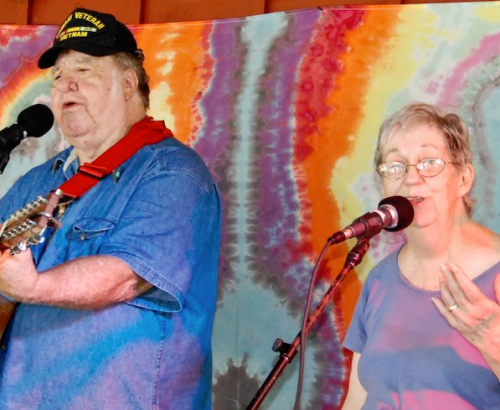 Sunday March, 20th
12:30 PM – Lee and Betsy Paulet
Betsy's poetry and Lee's poetic songs tell the tales of their native state, stories of lonely lighthouse keepers, long forgotten battles, recent events and Florida wildlife and critters. Their presentations often reflect their own strong personalities. With a generous smattering of humor, they present their stories from two different perspectives. Lee tells the tale from the male point of view, with Betsy telling it from a woman's perspective. They have been dedicated to writing and telling stories and songs of the history and heritage of their native Florida.
Sharing with others what it has meant to grow up in paradise and the import- ance of keeping it for future generations, they are proud to call themselves Florida Crackers! And now, you ask, just exactly what do they mean by Cracker? First, a point of definition: Cracker is not synonymous with Redneck. They refer to the Florida Cracker as an endangered species! As the Paulet's say "It is more that the Cracker has become politically incorrect, but true Crackers are they who recollect the beauty of paradise, they who care about keeping that beauty alive, they who invite all to build an even better tomorrow for ourselves, for our children, and for our children's children." They specialize in festivals and concerts, family reunions, community gatherings, places where people listen and care about what they're hearing. For many years, as Artists in Residence for the State of Florida they presented special programs for schools. Each have published an e-book, Lee's "Cracker Boy – Tales of Misspent Youth", and Betsy's "Butterfly Lessons".
1:30 PM – Bill and Eli Perras
The many inspired lyrics given to and interpreted by Eli, combined with Bill's bluesy finger-style guitar playing create a very uniquely modern take on true Americana music in its purest form. Receiving much recognition for their tightly woven musical creativity, they humbly remain true to their personal values. They speak out with strong heartfelt lyrics accompanied by soulful genuine pentatonic rhythms against social injustices, corporate greed, and daily follies in everyday life.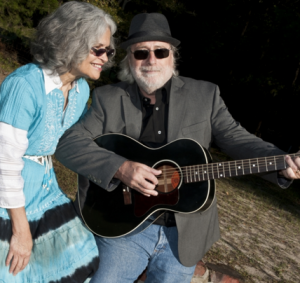 They can grip your heart, search your soul, change a mindset, or softly strike a funny bone, all the while leaving the audience with a sentiment for the common good we desire in all mankind. Bill & Eli have opened or shared the stage with Bill Staines, Michael Smith, John Gorka, Jack Williams, Steve Gillette & Cindy Mangsen, Paul Geremia, Anne Feeney, Rod MacDonald, Scott Ainslie, Small Potatoes, Emma's Revolution and many more nationally recognized entertainers. They are regulars at many Florida folk music venues and festivals and frequently travel beyond the Sunshine State sharing their music.
Open Mic – 2:30 PM – 4:00 PM