Live Music Series- J.D. Lewis Band/Julia Taylor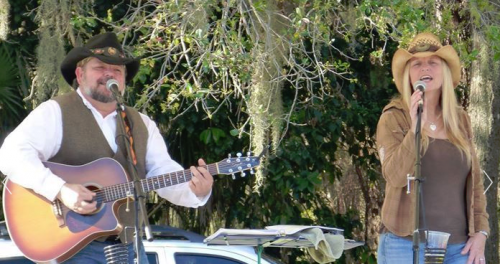 Sunday April 3rd
12:30 PM – J.D. Lewis Band
J.D and Zetha Lewis are a Folk/Americana High Energy Duo with a large list of original songs many of those about Florida these two have deep roots in this Florida sand , J.D is from a Florida Pioneer Family 7th generation he grew up on Stanford Rd just North of Wimauma Florida and Zetha was born in Bartow Florida grew up in Ruskin Florida part of her childhood then the rest in an orange grove in the country of Wimauma Florida. These two love what they do and it truly shows in there performances with there strong vocal harmonies along with J.D's heart warming stories , they strive to touch a heart , put a smile on your face while making you tap your toes , make you think about the important things in life all through words in there songs. These two have had many accomplishments in there journey together! First they were married very young J.D 18 and Zetha 14 , they wanted a family so decided to wait to pursue there music until there children were grown so that is exactly what they did, J.D has now written many Original Folk Songs and released a 5 song Live CD they are currently working on a full Folk CD and a Country/Americana CD.
They have performed at many great places in Florida such as The Florida Folk Festival , The Florida Opry , The Caladium Festival , Duette Cracker Festival , The Frank Thomas Festival , The Will McLean Festival ,The Florida State Fair , Cork Screw Swamp Sanctuary, as well as many great venues, Schools , and Assisted Living Facilities just to name a few while also performing in Alabama, Georgia, and Tennessee. They have been influenced by and shared the stage with there mentors and friends such as Frank Thomas , Jim Stafford, Billy Dean , John McEuen. So be prepared to enjoy there unique style and sound while on a splendid inspiring musical journey!
1:30 PM – Julia Taylor
Young singer songwriter born and raised in Tampa! Sings and writes Acoustic Pop with a country/folk influence.
Open Mic – 2:30 PM – 4:00 PM