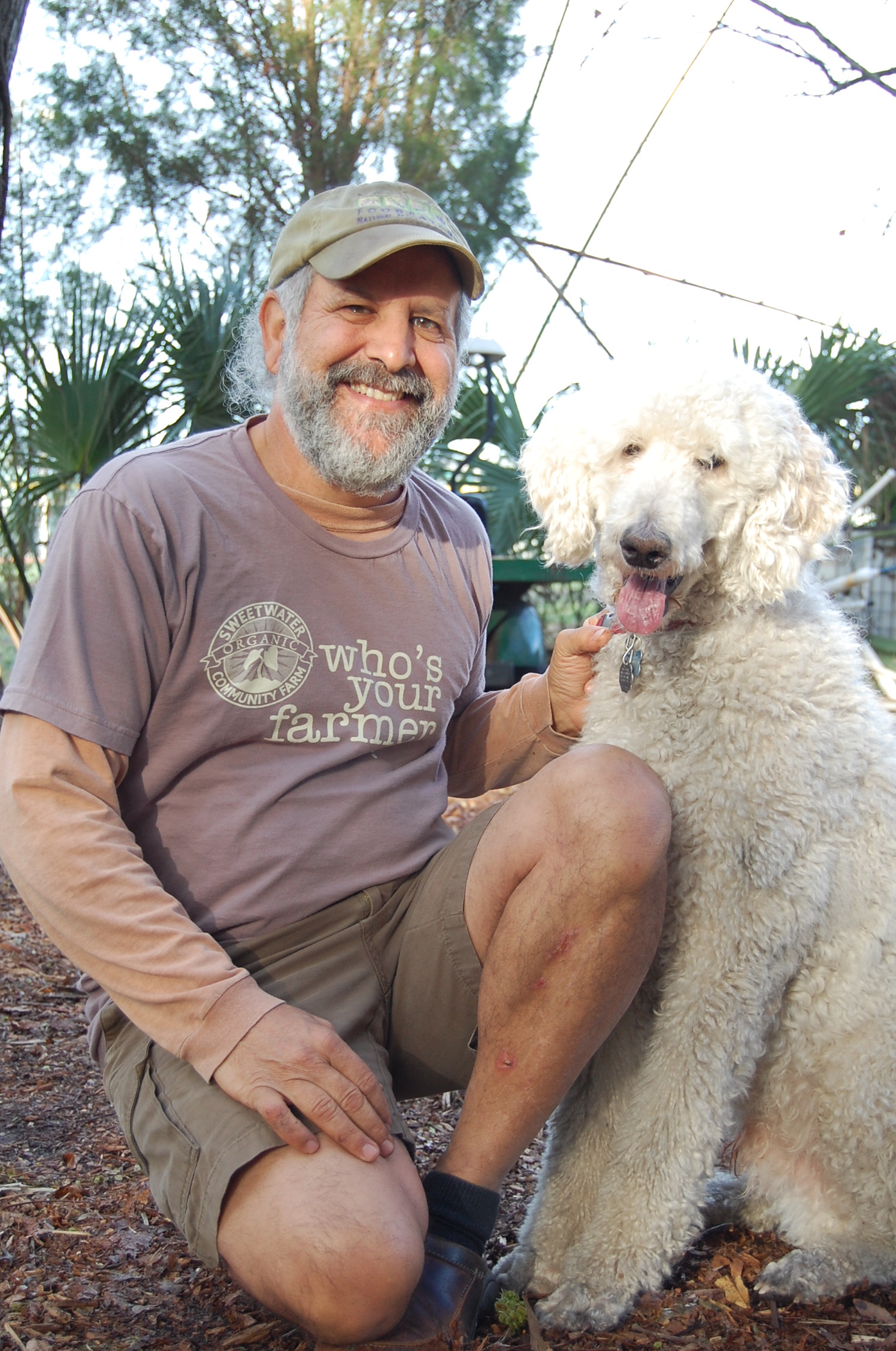 My love for organic farming is a long story, a journey that began in 1979, but first a little history. I am a third generation Tampa native who grew up in a loving family not very far from the farm. I played, fished, swam and grew up in the wonderful Tampa Bay watershed. It was so different from what is now around us. After graduating with a degree in Engineering, I worked as an engineer for a very short time before realizing my love for organic gardening. It started with small back yard gardens that got bigger and bigger and are still getting bigger.
It was not long before I had given up my career as an engineer and started my first experience as an organic farmer up in Pasco County. In the late 70's and early 80's there was not much information on organic farming, but it was a very happy time, fumbling my way through the learning curve of becoming a farmer, not knowing any better. I actually rode my horse from my house to my farm 5 miles away every day for work. This quickly evolved into specialty sprouts and culinary herb business servicing fine restaurants from Sarasota to New Port Richey and all points in between going through several evolutions. It all got very big and hectic. In 1987, I purchased the land that Sweetwater now sits on and moved from Pasco County back to my native Tampa. I came to very much love the special spot on Sweetwater Creek that is now Sweetwater Organic Community Farm. In many ways I was returning to my childhood, canoeing the creek, once again returning to the water shed I so deeply loved, once again much closer to my loving family. I quickly developed this tiny piece of land into a very special market garden supplementing my service to local fine eating establishments.
In about 1990, the organic certification world was starting to take hold. For some reason, I decided to attend a training for organic inspectors in Aurora, Nebraska. It was in February and brutally cold for a boy from central Florida. Little did I know my life was about to change dramatically. It just so happened that my skill set was perfect for an industry desperately in need of qualified professionals. Within a year or two, from the connections I had made in Nebraska, I was traveling the world inspecting organic farms and processing facilities. The organic inspectors formed an association called the International Organic Inspectors Association, of which I was soon elected to the Board of Directors and eventually became President. This experience launched my career as an internationally recognized expert in organic regulatory rules. It was all incredibly rewarding work. This opportunity continues today as my other career that many of you may not be aware of.
The down side was that with all that travel my beloved farm was rapidly becoming abandoned. It was weighing heavily on my mind and heart. One day in 1992, while lamenting this situation with a dear friend, I came up with the idea of starting a "community farm". He thought it was an excellent idea and offered to be the first member. So in early 1993, Sweetwater was officially, well, maybe not so officially, born. We started with 7 members and fumbled our way through it. Little by little with the steady support of dear friends and family, Sweetwater began to evolve and bloom like some rare, unknown flower, with us all gingerly nourishing her growth, not really knowing where we were headed. Meanwhile I was traveling more than ever, visiting some of the most amazing farms in Latin America, Asia, the Caribbean, Europe, North America, thousands of farms growing anything from coffee, cacao, quinoa, sesame, grains, fruits, vegetables of all shapes and sorts, all the while collecting ideas for our own dear farm back home. As of late, I have lost the lust for travel and have become more and more a home body.
So much has happened during this journey it is hard to get it all into words. So many wonderful people have contributed their hearts and souls to our Sweetwater, have nurtured it and helped it grow from that seed of an idea to the unbelievably wonderful farm we now all call our own.
There have been so many ups and downs, funny stories, success and failures. During this time the bloom has blossomed to nearly 400 families. Over 10,000 school children have visited Sweetwater to learn about healthy food. It has all far exceeded my wildest dreams and imagination of what it would day become, and fills my heart beyond words. I am deeply indebted to all of you who have become part of the richest experience anyone could hope for. I thank our wonderful staff, those who are here now, who have come and gone, who all remain so dear to my heart. I thank all of our wonderful families, the children, many of whom I first met as lumps in their mother's bellies as they rounded the share barn every week, the volunteers, musicians, vendors, the thousands of school children who have visited, all who have added their spirit to the tapestry we now call Sweetwater. This is truly the real reward, the true harvest of all our efforts.
The seasons pass, the fallow fields are tilled once again, nourished and seeded. With all of our past effort, all the love we have given the earth and each other, brings new crops, new faces, new people to share this special experience with. In this way, all those have come before, their efforts continue to live on. This is growing community from the ground up.
Each season I continue to be amazed, when I think it cannot get any better, it does. So here is my toast to our best season yet!! Thanks to all of you!!
See you all soon on the farm.
Rick