Savory Thanksgiving Pie
The recipe below is an adaptation from "The Horn of the Moon Cookbook" and you may incorporate whatever vegetables the CSA share provides. It looks more complicated and intricate to make than it really is. A springform pan and some good store-bought phyllo pastry make for a beautiful presentation.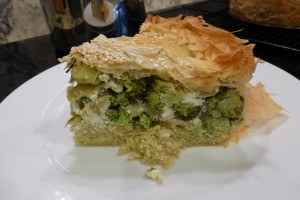 2 Tablespoons Butter
1 cup finely chopped onion
4 cloves garlic, minced
2 teaspoons dried dill weed
1 teaspoon herbs de Provence
6 cups chopped vegetables (broccoli, carrots, kale, turnips, collards, whatever you'd like)
1/2 teaspoon salt
1/4 teaspoon pepper to taste
4 eggs
1 cup cooked grain (brown rice, bulgar, quinoa)
2 cups crumbled feta cheese (or another cheese of your choice)
10 phyllo sheets (1/2 package)
5 tablespoons butter
1 tablespoon sesame seeds
Melt 2 Tbs butter in a frying pan over medium heat and sauté the onions, garlic, dill and herbs. In a steamer, steam veggies for 5 minutes and then add them to the onion mixture. Saute everything together 5 minutes more. Remove from heat. Cook grain.
In a large bowl beat the eggs and add the cheese. Then add the sauté of vegetables with the cooked grain.
Preheat the oven to 350. Take phyllo out of refrigerator, unfold dough and lay flat on the table, cover. Take 10" springform pan and butter. Fit sheets of phyllo along the bottom and sides, spreading melted butter on each sheet as you go. Let the extra dough overhang the edges. Use 5-6 sheets of phyllo for this process. Pour in the filling. Put four layers of pastry on the top, buttering each layer. Roll the edges of the dough up to form a crust around the pie's edge. Brush the top with butter and sprinkle with sesame seeds. Bake 45 minutes until the top is golden brown. Allow to set 10 minutes before removing the sides of the pan to serve.