Guadalajaran Greens Quesadillas
Any of the greens you picked up this week (collards, kale, mizuna, turnip, etc…) can be used in this recipe. Just remember to clean and stem the greens before chopping into bite size pieces.
Some people like to blanch greens before using,but in this recipe, the greens can be added to the other ingredients raw since they will be stirred into the other vegetables to develop the flavor.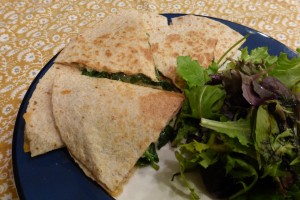 2 Tbs. vegetable oil
1 onion, chopped
2 cloves garlic, minced
1 jalapeno or Serrano chile, minced
¼ tsp. cumin seeds
¼ tsp. oregano
¼ cup tequila (optional)
12 oz greens, trimmed and chopped
8 6- in tortillas (corn or flour)
1 cup grated Monterey Jack cheese
Heat oil in skillet and add onion, sauté until golden (5 min). Stir in garlic, chile and spices. Saute for 2 minutes. Add greens, cover and reduce heat and steam until greens wilt. Uncover and cook until liquid evaporates.
Place 1 tortilla in skillet over medium heat. Sprinkle with ¼ cup cheese. Top with ¼ of greens mixture and top with a second tortilla. Cook 2 minutes each side to brown. Slice into wedges and serve with your favorite salsa and salad.
Recipe adapted from Vegetariantimes.com