Napa Cabbage Salad with Buttermilk Dressing
The dressing is a simple blend of buttermilk, apple cider vinegar, a touch of mayo, shallots, sugar, salt and pepper but the flavor is anything but. This is my new go-to creamy dressing. It would equally delicious with some crumbled blue cheese mixed in, if you're into that kind of thing.  The dressing would be really great on any kind of everything-but-the-kitchen-sink mega mixed bowl. Like your lunch tomorrow.
Ingredients
1/2 cup well-shaken buttermilk
2 tablespoons mayonnaise
2 tablespoons cider vinegar
2 tablespoons minced shallot
1 tablespoon sugar
3 tablespoons finely chopped scallions
1 pound Napa cabbage, cored and thinly sliced crosswise (4 cups)
6 radishes, diced
1 Granny Smith apple, grated
2 celery ribs, thinly sliced diagonally
Directions
Whisk together buttermilk, mayonnaise, vinegar, shallot, sugar, 1/2 teaspoon salt, and 1/4 teaspoon pepper in a large bowl until sugar has dissolved, then whisk in scallions and blue cheese (optional).
Toss cabbage, radishes, apple and celery with dressing.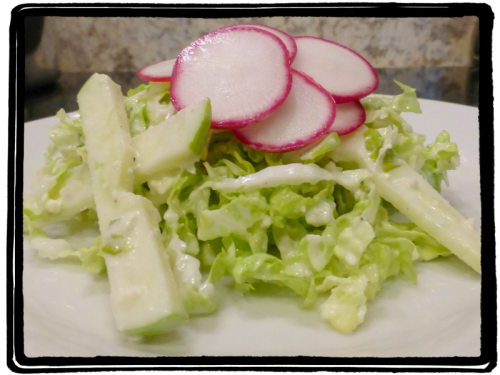 Adapted from Smittenkitchen.com