Cauliflower, Chickpea and Kale Curry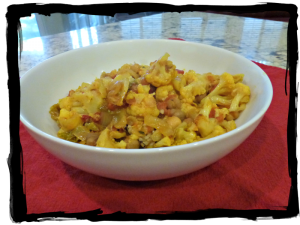 ¼ cup ghee or coconut oil
2 teaspoons whole cumin seeds
1 teaspoon ground cumin
2 Tablespoons ground coriander
1 teaspoon ground turmeric
¼-1/2 teaspoon cayenne pepper
1 small head cauliflower cut into florets
2 medium thin-skinned potatoes, cut into 1" dice
2-3 turnips, scrubbed and diced
1 15 oz can chickpeas, drained and rinsed
1 15 oz can crushed tomatoes
1 cup water
4 cups shredded kale
1/4cup fresh cilantro, chopped
Directions:
1. Heat the oil in a large, heavy pot over medium high heat. Add cumin seeds until they brown, about 20 seconds. Add rest of the spices. Stir for a moment and add cauliflower, potatoes and turnips. Stir constantly for 5 minutes so all vegetables are coated.
2. Add chickpeas and crushed tomatoes. Scrape up any bits of brown on the bottom of the pot and continue cooking until juices thicken, about 5 minutes.
3. Add water, kale and 2 teaspoons of salt. Reduce heat and simmer, covered, until vegetables are tender and cooked through, about 15 minutes.
4. Remove pot from heat. Taste and adjust for salt. Serve hot sprinkled with cilantro.
This dish reheats beautifully.
Adapted from "The Healthy Hedonist" by Myra Kornfeld