Crushed Carrots with Harissa and Pistachios
Ingredients: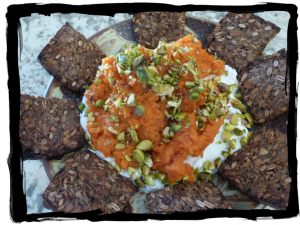 1 Tbsp olive oil
1 Tbsp butter
2 ¼ pounds carrots, peeled and cut into ¾" slices
1 cup vegetable stock
grated zest of 1 orange
1 clove garlic, crushed
2 tsp harissa paste
grated zest of 1 lemon
1 Tbsp lemon juice
1 cup Greek yogurt
3 ½ Tbsp shelled, chopped pistachios
salt and pepper
Directions:
1. Place olive oil and butter in a large sauté pan over medium high heat
2. Add carrots and sauté for 6 minutes, stirring often
3. Add the stock, turn down the heat and simmer for 25 minutes until nearly all the stock has evaporated. Transfer carrots to food processor and blitz briefly.
4. Cool. Add orange zest, garlic, harissa, lemon zest, salt and pepper. Stir to combine. Adjust salt and harissa to taste.
5. Mix together yogurt and lemon juice and spread on plate. Spoon carrot mix on top. Sprinkle with pistacios and drizzle with a little olive oil.
6. Serve with your favorite bread or cracker.
Adapted from "Plenty More" by Yotam Ottolenghi