Cauliflower (or Romanesco) Cake
Ingredients: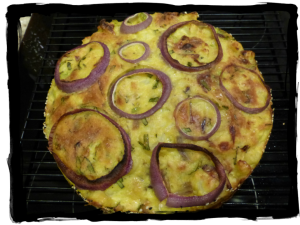 1 small head of cauliflower (or romanesco), broken into florets
1 medium red onion
5 Tablespoons olive oil
½ teaspoon rosemary, finely chopped
7 eggs
½ cup basil leaves, chopped
1 cup all purpose flour
1 ½ teaspoons baking powder
½ teaspoon ground turmeric
1 ½ cups grated parmesan cheese
1 teaspoon sesame seeds and 1 teaspoon nigella seeds (optional)
salt and black pepper
Directions:
1. Preheat oven 400 degrees
2. Place cauliflower florets in a saucepan, cover with water, add 1 tesp. Salt. Simmer 15 minutes until soft. Drain in a colander and set aside.
3. Peel the onion and cut in half. Cut one ¼" slice out of the middle. Separate rings and set aside. Chop remaining onion. Put in small skillet with oil and rosemary. Cook 10 minutes until onion is soft. Set aside to cool.
4. Crack eggs into large bowl and whisk with basil. The add dry ingredients, Parmesan, salt and pepper. Whisk until smooth. Add cauliflower and onions.
5. Stir gently until everything is well mixed.
6. Line the base and sides of a 9" spring form pan with parchment paper. Brush the sides with butter and sprinkle the seeds to coat the sides and bottom of the lined pan. Pour cauliflower mixture into the pan. Top with onion rings. Bake 45 minutes. Remove from oven and let rest for 20 minutes before serving.
Adapted from "Plenty More" by Ottolenghi