Two-Day Backyard Cob Oven Building Workshop w/ Mark Mazziotti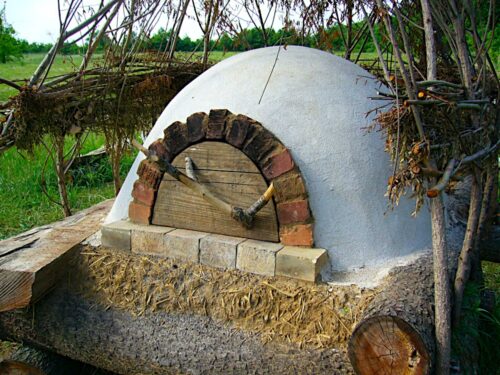 Join us for this two-day workshop and learn to build the ultimate backyard party oven by hand. And get an introduction to natural building in the bargain!
In this workshop, you will learn the age-old technique of mixing and building with cob (earth, sand, and straw) and everything else you need to know to build an inexpensive wood-fired oven.
A cob oven is the ultimate tiny house. From foundation to roof, the principles are the same. If you learn how insulation and thermal mass work in harmony to capture and store heat you are on your way to understanding how to build a good passive solar house. Mark Mazziotti is a journeyman natural builder and will be answering questions about various techniques throughout the workshop.
But even if all you're after is oven-building skills, you've found the right place. There is nothing like a pizza baked on a wood-fired brick hearth. They make a great centerpiece for a party. The pizzas cook in two or three minutes at around 800 degrees. After that, the oven will be just right for baking bread. Then well into the next day, you can make soup savory dishes.
This workshop is for folks who want to get the hands-on skills to build an inexpensive wood-fired oven. It's also for anyone who has ever been interested in learning natural building techniques.
Participants in this class will learn as they help build a cob oven for Sweetwater Farm so we can host events around the oven in the future, such as pizza nights and bread bakes. This oven can even serve as a community oven for the local neighborhood.
There is an option for an additional workshop day the Saturday (February 26th) before the cob oven workshop weekend to help build the foundation for the future cob oven. This day will not be led by Mark Mazziotti, but will still demonstrate some cob building techniques, as well as construction of the foundation of the oven, which is pretty useful to know if you plan to build one. This extra day requires purchase of an extra workshop ticket for $50.
Instructor Bio:
Mark Mazziotti discovered natural building in 2003 at a gathering in New Mexico. Ever since then he's had his hands and feet in the mix of techniques that make up this labor of love. He has a passion for low-tech cob ovens and rocket mass heaters and has recently advanced into the slightly higher-tech world of masonry heaters. Mark designed and built his own straw bale house at Red Earth Farms in Missouri where he currently resides. You can see some of his work at this link.
Saturday and Sunday Schedules will be similar:
8:30 – 9:00am Stretch / Check-in
9:00 – 12:30pm Work session
12:30 – 1:30pm Lunch Break (Lunch not provided)
2:00 – 5:30pm Work session
6:00 – 7:00pm Dinner Break (Dinner not provided)
7:30 – 8:30pm (Saturday) Natural Building slide show
7:30 – 8:30pm (Sunday) Campfire Hangout
Two Day, all-day class March 5-6th :
Early Bird Registration: $295
Registration after February 1st: $345
After Feb 1st, only half registration fee is refundable
Third day Saturday February 26th : Option to learn to build the foundation for the oven the weekend preceding the main 2-day workshop:
~Additional $50
Class size limit: 10 participants
Contact us at office@sweetwater-organic.org if you want to register some other way and not pay the service fees.