Tampa's Solutionary Film Series: A Prayer for Compassion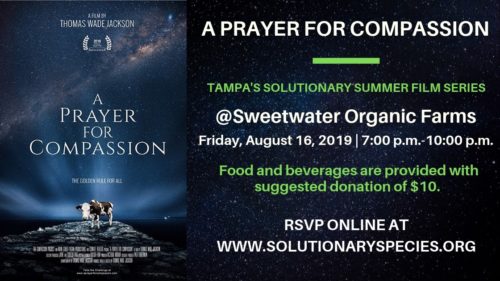 A Prayer for Compassion is a feature length documentary that strives to inspire and encourage those already on a religious or spiritual path, to expand their circle of compassion to embrace all life, regardless of species, and make choices in alignment with this value. This is an important topic for all to be aware of, no matter of the religious or non-religious ideas we believe in.
Join Solutionary Species and Sweetwater Organic Farms for dinner and a movie on the third Friday of each month at 7:00 p.m. A suggested $10.00 donation will reserve your space. You may donate at the door, but space and food is not guaranteed unless you donate in advance. You may also have the option of bringing a whole food plant-based meal, but please note that we can only accept meals that are PRE-PACKAGED (due to food safety rules and liability) and do NOT contain any animal products, including meat, dairy, eggs, honey, gelatin, etc. In the interest of advocating for a healthy lifestyle, we also ask that meals do not contain oil and are low in sugar/salt.
Register via Eventbrite or avoid additional fees by registering at the following link: https://www.solutionaryspecies.org/events/tampas-solutionary-film-series-a-prayer-for-compassion
Film screenings include dinner, snacks, drinks, a movie, and pre/post film discussions. Each month features a unique speaker to lead discussions. The screenings will occur outdoors. During the summer months, we recommend using an eco-friendly vegan insect repellent such as citronella.
Sweetwater Organic Community Farm was established in 1995 as a nonprofit community-supported urban organic farm and environmental education center in Tampa, Florida. They are located on 6 acres of suburban property along the Sweetwater Creek in Tampa's Town 'n' Country neighborhood, in Hillsborough County, Florida. Through their hands-on programs, visitors of all ages discover the wonders of nature, explore ecological interconnections, practice appropriate land stewardship and master sustainable agriculture techniques. Their farm provides the freshest possible organic vegetables and herbs for hundreds of Tampa Bay residents each year.
If you have any questions, please contact team@solutionaryspecies.org or call 727-489-4497.
Cancellation policy: Due to screenings being on a donation basis, we are not able to issue refunds for cancellations. However, refunds will be issued if a screening is cancelled due to low registration or poor weather conditions.