Live Music w/the Rebekah Pulley Duo and Greg Smith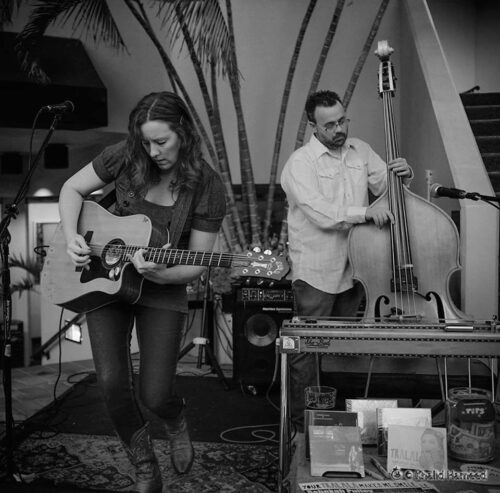 1pm to 2 pm Rebekah Pulley with Rob Pastore
Winner of the "Best of the Bay" award, songwriter Rebekah Pulley is joined by Rob Pastore on bass and pedal steel to bring you a mesmerizing musical experience.
Rebekah is a St. Petersburg, FL based singer-songwriter whose sultry, seasoned voice has been described as jaw dropping, with a tendency to break your heart and shake your soul. Her songwriting, live performances, and recordings have wryly evolved, tapping roots-rock, blues, old-school country & western, jazz, and even gospel earning her 6 'Best of the Bay' awards from Tampa Bay's Creative Loafing. Her original songs are potent shots of reality, spiced with subtle and beautiful melodies. Rebekah was raised in a musical household on wheels (aka: Winnebago) with her nine siblings throughout the most rural areas of Alaska, East Texas, and Washington State. A self taught guitarist, she gained an ear for music by listening to her father play his rockabilly style guitar with country greats such as Charlie Ryan with whom he recorded the original version of Hot Rod Lincoln. Rebekah's release, Tralala, was the top played CD on Tampa's WMNF 88.5 FM in 2013 and is a must have for Americana, Alt-Country, and Folk music fans. Her newest release, Night Music, songs written during the pandemic, has garnered much praise and airplay as well.
noon to 1 pm Greg Smith
Greg is a virtuosic guitarist whose range of styles encompass everything from jazz to contemporary pop tunes. Greg attended Berklee College of Music and has studied with many greats like Pat Metheny, Larry Coryell and pianist Manfredo Fest. Greg has performed all over the United States with various stars such as Chick Corea, Edgar Winter, Larry Coryell, and many more. He has opened concerts for Issac Hayes, the Moody Blues, Steely Dan, Tony Bennett, Pat Metheny, Kenny Loggins, John Prine and Steve Miller Band. John Travolta hired Greg to coach him on guitar playing for John's guitar debut on the feature film "A Love song for Bobby Long". Greg took part in a rare Billie Holiday tribute performance by award winning actress Juliette Lewis.