Live Music w/ Treble Hook & The Florida Boys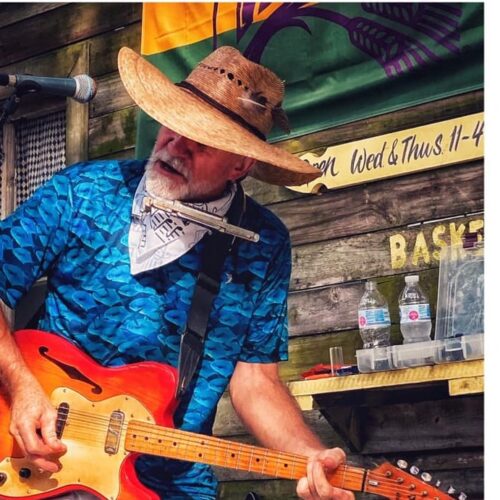 noon : Treble Hook
Treble Hook's lyrics resurrect pieces of history here in Florida by marrying the past with changes taking place now in the landscape environmentally and socially. It is further enhanced through a strong form of melody easily capturing the audience's senses and making a lasting impression in thought and spirit. Listeners will experience the projected truths in some of the lyrics and hopefully recreate what they've experienced to change the destiny of the state for the better. He performs most of these songs as a featured set in a band called The Treble Hooks at popular venues along the Gulf Coast of Florida. He also plays all of them as a solo performer, preferring small intimate concert like settings for his solo experiences and has appeared at the St. Petersburg Museum of History for the Florida Humanities Councils Florida Folk Series and The Pinellas Folk Festival. Recently he did a show for Gina Bingham Adult Services Librarian at the Safety Harbor library for the Viva 500 Anniversary Celebration since the discovery of Florida to a well received audience.
1 pm ; The Florida Boys
Pete Gallagher and Pat Barmore front the legendary hometown band the Florida Boys,  Pete is the irascible host of the Florida Folk Show now airing Saturdays at 10am on Sunshine 96.7 fm St Pete. He is a iconic Florida folk musician, songwriter and cultural historian and journalist; Pat Barmore is also a gifted songwriter with a deep baritone reminiscent of Johnny Cash. Along with Ray Solomon and Bart Hanchey, the Florida Boys romp through classic country and folk with great energy and style.
Yes,  that's them in the picture with John Prine who stopped by at Pete's Florida Folk night in St. Pete Beach.
Their music is genuine, heartfelt Florida Folk…..