Live Music w/Lilly Jane Band & Mark Carufel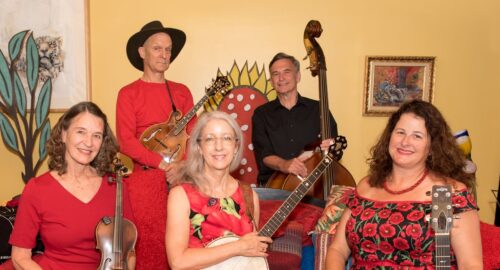 noon – the Lilly Jane Band
The Lilly Jane explores songs forgotten and harmonies remembered with an original, earthy style that is both powerful and subtle. Their music features beautifully blended singing backed by acoustic instruments that include guitar, banjo, fiddle, mandolin, and stand-up bass.  Lilly Jane performs at festivals and venues in Florida, including the Florida Folk Festival, Will McLean Festival, Lake County Folk Festival, Pinellas County Folk festival, and the Temple Terrace Art Festival. Their first recording is entitled The Zen Sessions.
1 pm Mark Carufel
Mark "Markus" Carufel was born in Bismarck, North Dakota
He has lived all over the United States from Alaska to Florida. His musical influences come from every genre with influences ranging from Bob Dylan, Doc Watson, to the Beatles and more. Mark would describe his music as "folk-rock". A well-crafted song with a message has always been his goal. The quest for answers to the reason for our existence is the motivation behind many of his songs and love songs fit into that quest.