Live Music w/ Jct 27 plus Ray & Cheryl Belanger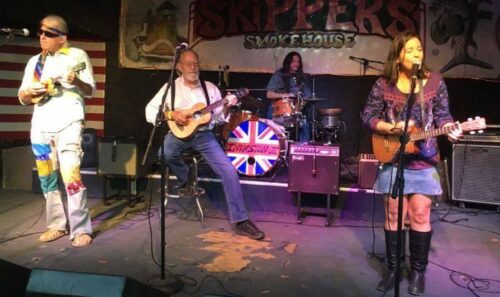 noon – Jct 27
Jct 27 is an original band with roots  high above the downtown Tampa skyline. Uke Fusion is Jct 27 bringing heavy strumming and picking to create a variety of sound, style and genres to electric "uke" playing like no other. Our inspirations and influences include Americana, Folk, Newgrass, Blues, Hawaiian and Latin roots.
Listen to them at https://www.reverbnation.com/jct27
1 pm Ray and Cheryl Belanger:
Ray and Cheryl perform classic Country Music from the fifties, sixties and seventies.  They have been married for 37 years, and have been performing together for much of that time. Early in their musical adventure they formed the folk band, Simple Gifts.
It started out with just the two of them, and, over the next 30 years grew to 6 members. In the past year they have expanded their musical talents to include a large repertoire of Classic Country songs.
Ray and Cheryl have performed several times at Sweetwater Farms as the Simple Gift's band, both during the spring and summer programs, and during our holiday programs. They have been met with much applause and joy by the many folks that have attended their performances.
Through music, Ray and Cheryl wish to share the experience, emotion and inspiration of life with their audience. The joy and love with which they pursue this goal is obvious during their stage performances.