Live Music Series- The Gadabouts/The Chicken Gizzards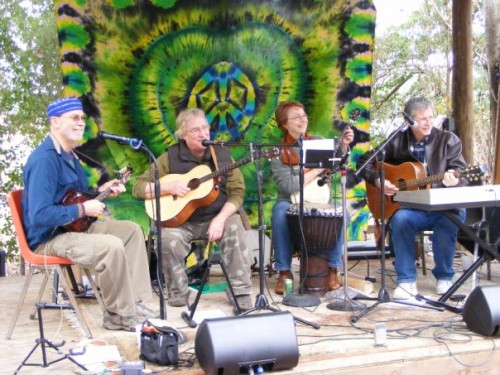 Sunday, January 31st
12:30- The Gadabouts
The Gadabouts bring many years of experience with several different musical styles, producing a fine "gumbo" that audiences delight in. They give a wide and varied repertoire of traditional, covered and original tunes and songs. It's all about rhythm, energy, connection and presence. Whether playing for contra dances or performing for folk festival crowds around the state of Florida, the aim is to delight their listeners whether they be dancing or sitting. Audiences can count on being treated to tight instrumentation and vocal harmonies, interesting rhythmic textures , and lots of energy from every performance.
Learn more at http://thegadabouts.com/bio/
1:30- The Chicken Gizzards
Chicken Gizzards Old Time String Band play dance music mostly derived from the combining of British Isles and African-American music brought to America in centuries past. It's pre-Bluegrass country music widely heard on radio in the 1920's and '30's. They have performed at Civil War re-inactments, the inaugural Floral City Bikes and BBQ, the Pioneer Florida Museum in Dade City and St. Leo University.  Chicken Gizzards are: Ernie Williams, clawhammer banjo; Bill Reynolds, fiddle; Jim Strickland, fiddle; Dave Townsend, mandolin and mandola; and Bonnie Bie, guitar.