Live Music Series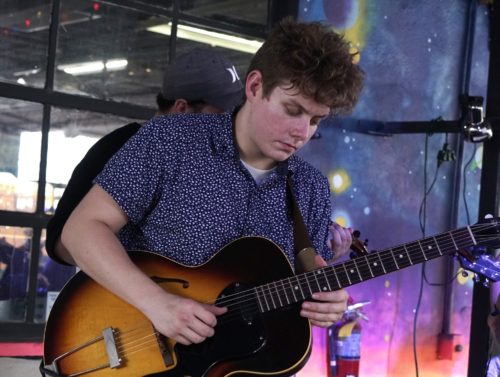 noon: Liam Bauman
Liam's story in his words:
I was born June 29th, 1998. A couple years before I was born my parents moved from Ontario Canada, to Bradenton Florida where I raised. I've always had a strong passion for music, growing up I was heavily inspired by artists like Tom Petty and Bruce Springsteen, as well as my own father who is a musician himself. At the age of 11 I began playing and writing my own music and since then I've been involved in several musical projects, most recently being Leon Majcen & Co. and Napolean the Wilderness.
I'm currently pursuing music solo and will be releasing new material written and preformed entirely by myself in the near future.
Come hear this exciting young talent with great guitar chops and songwriting skill!
1 pm Matt Flynn
An engaging performer, Matt uses a looping station in order to record (live and on-the-spot) his own voice and instrumentation (guitar, flute, harmonica, keys). The live recordings are then used as accompaniment during the same performance, resulting in a one-man-band performance with 3- and 4-part vocal and flute harmonies as well as layered guitar tracks. Along with his original music you can expect cool covers of artists such as the Avett Brothers as well.