Live Music Series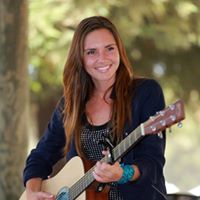 noon: Amber Lynn Nichol – 1 pm Tate Leigh
Born in New Jersey, Amber is a performer, teacher, and advocate for music education She is a classically trained singer and self-taught guitar and piano player. Her 6th studio album, "Endless Summer" was released December of 2016. Amber recorded three studio albums in Nashville before setting out to build her own project studio and redirecting her musical genre from Country to Pop.
Raised on the East Coast, often traveling back and forth between New Jersey and Florida with her family,she is the oldest of four children, all creatively and musically inclined. Amber starting working in entertainment at age twelve.
Amber wrote songs and poems even as a small child, but as she grew older she fell more and more in love with the stage and music and the arts.
Amber founded her record label Jerzey Girl Music at age twenty-four, financing her recordings  through crowdfunding campaigns. Amber consistently releases new music, videos, and collaborations with other artists. She tours and continues to build a grassroots following as an entirely independent artist.
Amber's cited influences as a singer-songwriter include Stevie Nicks, Bonnie Raitt, Carol King, Carly Simon, Jewel, Taylor Swift, ACDC, Tom Petty, Metallica, Janis Joplin, Chris Cornell, Jim Croce, Queen, Kasey Chambers, and B.B. King. She is also a writer, a children's poet, and a painter and motion / visual artist and experimental dancer. She often collaborates with her sister Deda Nicol, a visual artist and animator, to produce events, demonstrations, blended art and music shows, and virtual media entertainment.
1PM – Tate Leigh
Tate is a St. Pete based singer-songwriter making her Sweetwater debut. A recent transplant from Louisville, Ky this  Americana artist draws from various genres including roots-rock, folk, bluegrass, country and blues, resulting in a distinctive roots-oriented sound.