Live Music Series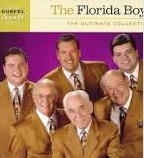 12:30 The Florida Boys
For sixty years fans have flocked to see The Florida Boys, the only male quartet that was consistently prominent from the 1950's to July 2007. With No. 1 hits like "Standing On The Solid Rock", "When He Was On The Cross, I Was On His Mind", "Lead Me To The Altar" and "I Lean On You Lord" this legendary group has recorded some 100 albums and attained a following of devoted listeners.
1:30 So, you ask yourself, who is this Panama Red? The answer is simple: an original Texas Jewboy and a co-writer with Kinky Friedman, Billy Joe Shaver and Ronny Elliott, Panama Red was a fixture in the 1970s Music Row Outlaw movement in Nashville. His sphere of influence has grown lately to include an annual stint on and in European stages and bars. His irreverent stage comments are interspersed with original, intelligent songs which have been described as "honest', "elegant', and "soulful", by such luminaries as Kinky Friedman, Marshall Chapman and David Olney.
He currently lives "just far enough" outside of Nashville.