Collards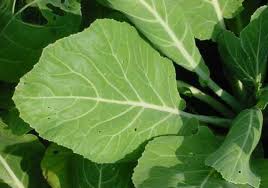 All cruciferous vegetables provide integrated nourishment across a wide variety of nutritional categories and provide broad support across a wide variety of body systems as well.
Collards are leafy green vegetables that belong to the same family that includes cabbage, kale, and broccoli. While they share the same botanical name as kale, Brassica oleracea, and some resemblance, they have their own distinctive qualities. Like kale, collards are one of the non-head forming members of the Brassica family. Collards' unique appearance features dark blue green leaves that are smooth in texture and relatively broad. They lack the frilled edges that are so distinctive to their cousin kale.
Long a staple of the Southern United States, collard greens, unlike their cousins kale and mustard greens, have a very mild, almost smoky flavor. Although they are available year-round they are at their best from January through April.
Storage
Look for collard greens that have firm, unwilted leaves that are vividly deep green in color with no signs of yellowing or browning. Leaves that are smaller in size will be more tender and have a milder flavor. They should be displayed in a chilled section in the refrigerator case to prevent them from wilting and becoming bitter.
Place collard greens in a plastic bag, removing as much of the air from the bag as possible. Store in the refrigerator where they should keep fresh for about three to five days.
Preparation & Cooking Tips
Tips for Preparing Collard Greens
Rinse collard greens under cold running water. Chop leaf portion into 1/2-inch slices and the stems into 1/4-inch pieces for quick and even cooking.
To get the most health benefits from collard greens, we recommend letting them sit for a minimum of 5 minutes before cooking. Sprinkling with lemon juice before letting them sit may be able to help activate their myrosinase enzymes and increase formation of beneficial isothiocyanates in the greens.
The Healthiest Way of Cooking Collard Greens
We recommend Healthy Steaming collard greens for maximum nutrition and flavor. Fill the bottom of a steamer pot with 2 inches of water. While waiting for the water to come to a rapid boil chop greens. Steam for 5 minutes and toss with our Mediterranean Dressing and top with your favorite optional ingredients. For details see 5-Minute Collard Greens.
How to Enjoy
A Few Quick Serving Ideas
Serve steamed collard greens with black-eyed peas and brown rice for a Southern-inspired meal.
Use lightly steamed, cooled, and chopped collard greens as a filling in your sushi vegetable rolls.
Nutrition
Collard greens are an excellent source of vitamin K, vitamin A (in the form of carotenoids), manganese, vitamin C, dietary fiber, and calcium.. In addition, collard greens are a very good source of vitamin B1, vitamin 6, and iron. They are also a good source of vitamin E, copper, protein, magnesium, phosphorus, vitamin B5, folate, omega-3 fatty acids, niacin, vitamin B1, and potassium.