Wholly Guacamole
Ingredients: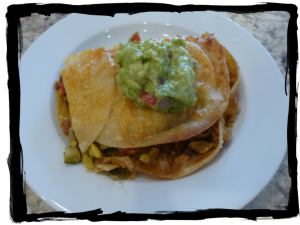 2 Tablespoons fresh lemon or lime juice
2 medium sized ripe avocados
1-2 medium cloves garlic, minced
salt to taste
Augmentations:
½ teaspoon cumin
½ teaspoon chili powder
black pepper and/or cayenne to taste
minced green, red or banana peppers
peeled, seeded, minced cucumber
minced radishes
diced tomatoes
Directions:
Cut open avocados and scoop the flesh out of the skin. Mash with a fork
Add juice
Stir in remaining ingredients. Cover tightly and chill.
Note: to help retain the lovely green color, place the pits in the bowl but remember to remove them before serving.
Adapted from "The New Moosewood Cookbook" by Molly Katzen