Pasta– Your Way
Ingredients: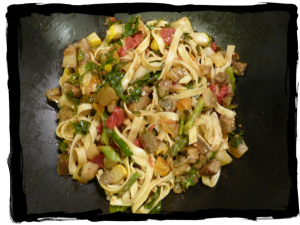 2 ¼ cups flour (white whole wheat, all-purpose or bread flour)
¾ teaspoon salt
2 whole eggs
3 egg yolks
1 Tablespoon extra virgin olive oil
extra flour as needed
Directions:
1. In a food processor, pulse together flour and salt. Add eggs, yolks and oil a bit at a time until the dough forms and holds together. If it looks dry, drizzle more olive oil; if it looks wet, add a bit more flour.
2. Dump dough onto a work surface and knead briefly until smooth. Wrap in plastic and rest at room temp for 1 hour.
3. Cut the dough in half if you are rolling by hand or into 4 pieces if you are using a machine. Roll to desired thickness/thinness.
4. Cut the pasta to desired shape. Place on a flour-dusted sheet tray while you are rolling and cutting the remaining dough.
5. Bring a large pot of water to a boil and cook pasta 1-3 minutes. Delish
Note: I encourage you to consult the website Cooking.NYTimes.com if you have not made pasta before and watch the video. You will find it most helpful.