Live Music with the Crabgrass Cowboys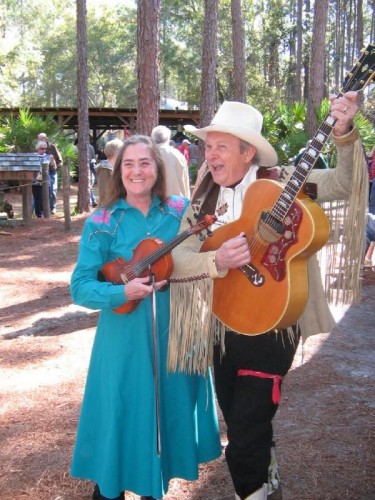 noon to 2 pm – the Crabgrass Cowboys
Hapi McKenzie (Grandfather of Crabgrass) was playing his guitar in a "dive" bar on Hillsborough Ave in Florida on a hot July night in 1988 when in walked Patty Pfister with her violin.
When he invited her to play with him that night they worked so well together that Hapi decided to give up his "frontman" status and try to make a go as a duo.
The two blended their musical stylings "like a good cup of coffee". Hapi, named for his continuous and infectious positive outlook on life, didn't want to "fit in with everyone else" and so their particular music, a combination of Rock-a-billy, bluegrass and swing was born and affectionately named "crabgrass" (Country, Rock-A-Billy, Americana & Bluegrass).
2 pm Open Mike