Live Music Series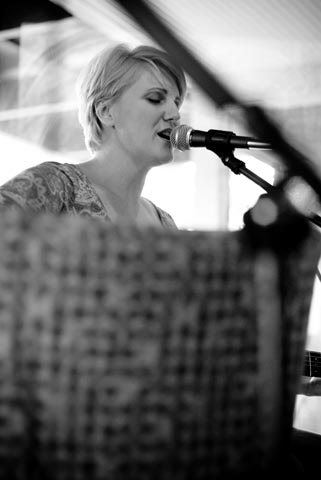 12:30- Stephanie Carpenter
"Stephanie Carpenter, a Tampa Bay treasure, brings a clear, haunting voice to her heartfelt, deeply personal lyrics. Her music invites listeners to share in her feelings and emotions as she gives them expression in her songs. Stephanie has earned both the respect of her peers, and the appreciation of those lucky enough to hear her perform. "
Rocco Colello, Music Promoter
Recording artist Stephanie Carpenter clearly has a passion for expression through music.  As a self taught singer, songwriter and guitar player she has refined her unique acoustic sound.  Her music runs the gamut of soulful and tender to blatantly raw emotion.   When listening to Stephanie's genre crossing originals, her diverse musical influence is apparent. Influential artists include Jewel; Lisa Loeb; Peter, Paul & Mary; Linda Ronstadt; Neil Young as well as various poets and authors. Performing diverse styles, with a unique acoustic flare, gives this artist wide audience appeal.  Hear why Stephanie won a 2003 Battle of the Bands Overall Best Music award and was listed in the 2008 Tampa Bay Times Local Music Issue as an artist you must know.
Stephanie has performed at various venues throughout the Tampa area.
1:30- Passerine
Passerine's distinctive sound is built around vocal harmonies, backed by acoustic guitars, lively exchanges between fiddle, mandolin and dobro, and an acoustic bass that builds on a solid foundation with occasional flights of fancy. Passerine strives for an acoustic sound that is honest and compelling, that has purity and depth, that explores the contemporary edge of traditional folk and bluegrass music. The group was formed in 2009 by Carmela Pedicini (vocals and acoustic guitar), and David Brain (dobro). Sara Moone joined the group in 2011, and Doug Conroy became the most recent addition in 2014. Passerine released their first full-length CD, "Another Song About a Bird," in July, 2012. Their second CD, "Nest of String," was releasted a year later in 2013. Both were recorded at Zen Recording Studios in Pinellas Park. Over the past several years, the group has been featured at the Florida Folk Festival, The Gamble Rogers Festival, Sarasota Folk Festival, Riverhawk Music Festival and the Will McLean Folk Festival. They received the SSA "Band of the Year" award at the 2012 Deland Original Music Festival, making a return appearance after receivine "Song of the Year" in 2011 for their song, "Dreaming of Abraham Lincoln." This year, Passerine was voted among three bands recognized as"Best Local Bands" by SRQ Magazine. They will be headlining for a second year in a row at the South Florida Folk Festival, and have been selected as headliners for the 2015 Listening Room Festival in St. Petersburg.