Live Music Series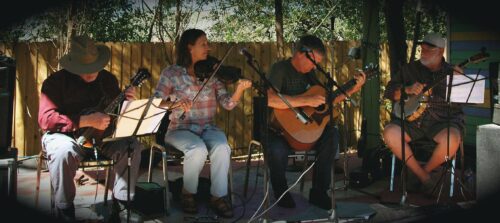 noon – Jenny and the Straydogs
Old but reallllly good!  Jenny and the Straydogs are seasoned musicians that pack a wallop at Florida festivals and contra-dance barn dances.  You won't be able to tap your foot fast enough to their Hangman's Reel and Sandy Boys. The line-up is freakin' fiddle, boss banjo, lightening mandolin, and solid guitar. Jenny was one of the founders of the Sweetwater Farm music series and acted as Sunday host for four years. Ron Gilbert, guitar, provided sound at Sweetwater for four years as well. Mandolin Joe Donahue is accomplished at both old-time, bluegrass, and Irish. Banjo Clay Black has won awards for his precise banjo licks and authentic Kentucky mountain vocals. Listening to Jenny and the Straydogs, you are guaranteed a good time.
1 pm – Liam Bauman
Liam's story in his words:
I was born June 29th, 1998. A couple years before I was born my parents moved from Ontario Canada, to Bradenton Florida where I raised. I've always had a strong passion for music, growing up I was heavily inspired by artists like Tom Petty and Bruce Springsteen, as well as my own father who is a musician himself. At the age of 11 I began playing and writing my own music and since then I've been involved in several musical projects, most recently being Leon Majcen & Co. and Napoleon the Wilderness.
I'm currently pursuing music solo and will be releasing new material written and preformed entirely by myself in the near future.
Come hear this exciting young talent with great guitar chops and songwriting skill!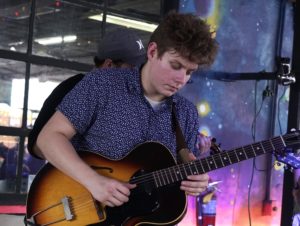 2pm- 3pm open  mike