Live Music Series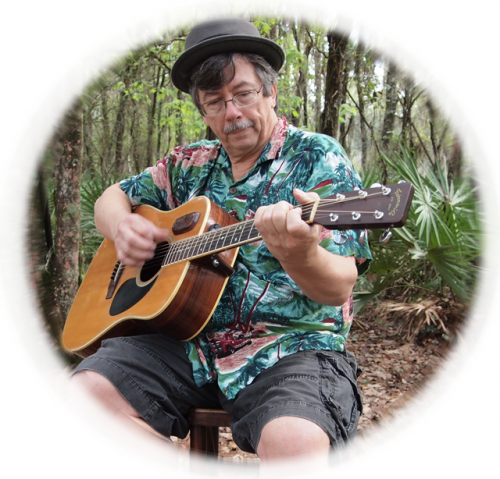 noon : Mike Handley, 1 pm Jack Sprouse
Mike was born and raised in Tampa, is a fourth generation Floridian, and still lives in Tampa. He loves to entertain and will bring you to laughter and tears (but mostly laughter) with originals and covers of great but often obscure Americana, Folk and Classic Country songs. Sometimes you laugh with him, sometimes at him, it's all good
Mike grew up in a home filled with music; of course, that music was Spike Jones, Ray Stevens, Alan Sherman, Smother's Brothers, Hee Haw, and Roger Miller. Dad was a swing band drummer. Grandpa played C Melody sax, dulcimer, keyboards, and built a few various stringed instruments too.
Mike started in music at 12 with clarinet taking lessons from Junie Ferrell, Artie Shaw's alto man, through high school. As a bribe every other week was a guitar lesson.
Musical influences include John Prine, Steve Goodman, Michael Smith, Jerry Jeff Walker, Fred Eaglesmith, Paul Thorn, Hayes Carll and so many more both famous and relatively unknown great song writers.
In recent years has played Florida Folk Festival, South Florida Folk Festival, Barberville and Will McLean festival, among others.
1 pm : Jack Sprouse
It's a great time to be a punk rocker who grew confident enough to trade the noise in for nuance, and pick up an acoustic guitar. The scene is littered with 'em. Jack Sprouse was never punk. He's been a goth, a new waver, a metalhead — and a lifelong country-music fan who, as the son of fruit-picking parents who worked the orchards between cosmopolitan Tampa Bay and Orlando's plastic tourist mecca, has come full circle to reinterpret the music he grew up on.
After decades in the world-famous Tampa metal scene, Sprouse unplugged to get back to his roots, and began playing classic country covers as a solo act in bars from Lakeland to Ybor City. Studying the tunes he'd loved since childhood, he began to pen songs that echoed those simple, timeless themes — whiskey, family and heartbreak — and set about putting together Band of Sorrows, a group that would lend a dynamic new voice to the country-and-western pantheon.