Live Music Series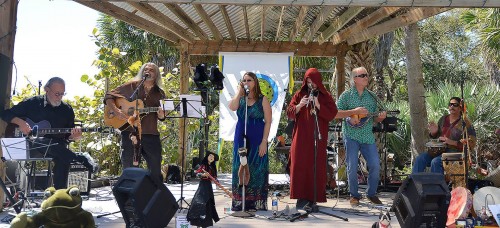 Celtic Calling  – 12 noon
John Papos Frassica,  one of Tampa Bay's finest troubadours, leads this ensemble dedicated to presenting celtic music both traditional and contemporary. Joined by Gloria Michelle Lagrandier on vocals and Bill Lagrandier on drums , Celtic Calling will wrap you in memorable  melodies and foot-stomping tunes.
Acho Brother – 1 pm
Hector Mayoral, aka Acho Brother, brings his latin- infused original songs to Sweetwater Farm. Known for his high-octane live performances, Hector mesmerizes audiences with his energetic and inspiring music.
Hector released his debut album in 2002. 'A Beneficio de Marvin Santiago', an attempt to help out Puerto Rican salsa singer Marvin Santiago who was fighting diabetes and in need of an organ transplant.
ACHO BROTHER moved to the Tampa Bay Area in 2003 and in 2004 began recording his second CD 'MONKISH'. Dallas' Unsigned The Magazine called it one of the best albums of the year.
Tampa's Creative Loafing voted ACHO BROTHER Best of The Bay Culture-Clash Artist, and later that year WMNF 88.5 FM's Franco Silva included ACHO BROTHER's "Tango Desnudo" in Latin Beat Magazine's Top 20 and called it "new age, latin/folk-pop".
In 2007, ACHO BROTHER released "Las Chicas del Volleyball". Tampa Bay Times called it, "stirring and evocative".  Creative Loafing calls them the 'Most Innovative Artist of The Year'. ACHO BROTHER was also featured in Beyond Documentary's "Un Pensamiento Cubano" by Robert Arevalo.
MetroMix Magazine describes ACHO BROTHER's last endeavour 'Hanbleceya' with these words" … you will never hear anything like it. Ever."