Live Music Series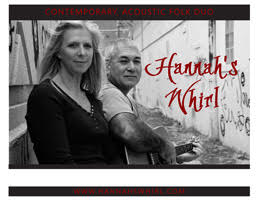 12:30
Paul Arnone and Tami Wingard, native Floridians, founded a Tampa-based musical Duo Hannah's Whirl based on Paul's vocals and original guitar driven songs and Tami's easy vocal harmonies with accompaniment on mandolin, harmonica and percussion. Paul's songs about boyhood in Florida are sweetened by Tami's mellow close harmonies. You've seen them playing venues form house concerts to the seasonal festival circuit, including the venerable Florida Folk Festival. CD's available.
1:30
Charley Groth is one of Florida's well-recognized musicians.  He is a lifetime professional musician/entertainer.  Charley lives on the central Gulf of Mexico coast of the Sunshine State of Florida, USA. He has toured in the United States and around the world with his music.  Charley has been named a Florida Master Artist by the Florida Department of State, and he is a member of the National Traditional Country Music Hall of Fame.  He has won multiple national championships at the National Country Music Festival as an instrumentalist and as a singer and he is an award-winning and often-recorded writer of songs and instrumentals.  As a recording artist, Charley has made numerous CDs, tapes, and vinyl records of his own and has played and sung on the recordings of many other artists over the years.  Charley has been featured on national and international broadcasts on NPR (America's National Public Radio); on New Zealand's national radio and television and on many regional stations; on a wide variety of European radio and television broadcasts; and he is a veteran of many, many radio and television appearances in the USA.   He has performed for two American First Ladies, Rosaylnn Carter and Lady Bird Johnson.
 
For twenty-five years Charley produced and directed the Sunshine State Acoustic Music Camp, a learning camp for acoustic music in St. Petersburg, Florida. 

 



Charley is known for presenting a very wide range of music on many instruments, from guitar to piano to mandolin and more.  He is at ease with many genres, from jazz standards to western swing to blues, pop tunes, real country music, and more, and he is a fine, smooth, thoroughly professional entertainer,  with a lifetime of experience before audiences big and small.