House Concert with Travis Knapp & Charlie Groth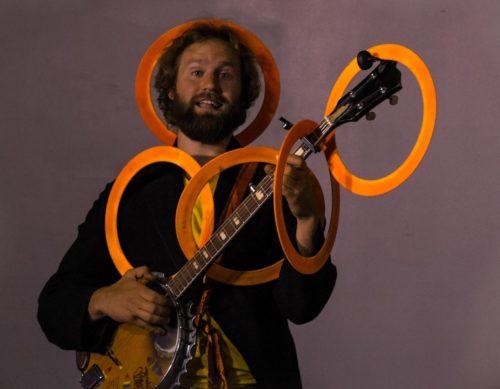 7pm – Travis Knapp, Charlie Groth opening
"Travis Knapp is a brilliant musician with a resonant voice. His songs are uplifting and strong, kindling a sense of hope and optimism. He is very impressive." –Starhawk, author and activist
A Travis Knapp show is full of audience singing, rich vocal harmonies, clawhammer banjo, joyful dance grooves, acoustic vibes, heartfelt stories, gardening tips, bicycle touring tales, and inspiration to come to this life in a good way. His music pulls together personal and community growth with social justice and everyday spiritual practice.
Falcon Ridge Folk Festival Emerging Artist (2019)
Winner of "Best of Bound for Glory" live folk radio broadcast (2016)
Travis Knapp was born and raised in central New York, traditional and ancestral homeland of the Haudenosaunee people (Iroquois).
After studying piano at the Conservatory of Music at Ithaca College, Travis was awarded the BMI John Lennon Songwriting Scholarship in 2008 (for his song "Before You Go"). Following an enthusiastic plunge into organic agriculture for a few years, he began performing as a songwriter in 2013 with the release of his first album "Bright New Way."
His 2nd album "For Everything That's Good" [2014] was written while bicycle touring around the country. His 3rd album "All the Stars You Hold" [2016] is largely driven by banjo, piano, and other less-conventional instruments (kalimba, shruti box). "A Circus to the Music of Travis Knapp: All the Stars You Hold" – was premiered at Circus Culture in Ithaca to enthusiastic full houses. The show featured Travis and a 5-piece band performing the entire album, with a different circus act for every song.
Travis practices permaculture, wild crafting, and regenerative agriculture, while continuing to explore music as an important form of sound healing and education. He has served as vegetable gardener and musician-in-residence at the Body Mind Retreats, and now grows herbs and apples in Erin, NY.
Winter of 2017 was a successful bicycling and music tour from Oakland to Vancouver – 1,000 miles of riding and 15 performances along the way. August and September 2018 were spent sharing music in Sweden, England, Wales, Scotland, and Ireland – including performances at the Shrewsbury Folk Festival and Findhorn Ecovillage.
He can be found ring-mastering and playing music for Ithaca's circus events at Circus Culture, or playing piano as the music director of shows at the Kitchen Theater of Ithaca. As a founding member of the community education band "Rot'n'Roll," he writes and performs composting and ecology songs which include "Raw Veggies and Greens" from the Grammy-nominated album "Food for Thought." He also performs and facilitates workshops with the Honey Child Soul Quintet. Live performances of electronic dance remixes of his songs by Astro Hawk  have been getting people moving from NY to NC.
Travis sings locally and across the country at festivals, farms, markets, gardens, schools, houses, and more  – spreading his positive music and ideas wherever they find fertile ground – in hopes of inspiring folks to live honestly and joyfully!
Opening the show is Bay area renowned singer/songwriter Charlie Groth.