Designing A Rainwater Collection System for Your House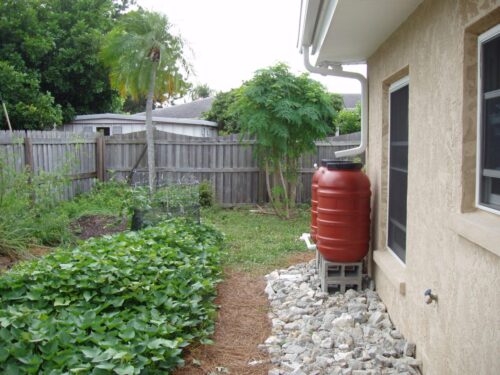 Flooding is becoming a bigger problem all the time, and clean water is becoming scarcer and scarcer. Everyone can help address these serious problems by installing a rainwater harvesting system at their home. With a little knowhow and a little investment, you can collect abundant water from the sky, use it to water your gardens, and in the process prevent erosion and reduce flooding.
In this class, you'll learn how to design your own rainwater collection system for your house, taking into account the unique conditions in your yard. You'll learn how to best collect and store rainwater from your roof. You'll learn about planning for rainwater runoff and how to make the most of it to make your gardens more abundant.
As part of the class we'll be touring the rainwater harvesting system at the Sweetwater Café. The Sweetwater system will use plastic rain barrels and totes to collect water and water the surrounding gardens. The design also involves planting new fruit trees and installing new gardens, not only to beautify, but to make use of the collected rainwater.
Diane Willis has a Masters Degree in Botany and has worked as a wetland scientist in Florida for over 30 years. She took a permaculture design course in 2013 and a water harvesting certification course in 2016. Using what she learned, she created her own food forest at her home with an extensive water catchment system. She has taught others about water catchment planning and implementation with rain barrels and earthworks to route water flows.
Course cost:
General Admission $30
Senior/Low Income $15 limited tickets
Register for this workshop HERE
Although our base price for this course is $30, Sweetwater is a nonprofit that puts on educational programs for elementary schools in the neighborhood and teaches them about food systems and basically where their food comes from. We also host community volunteer days and a farmer's market every Sunday from November through May. You can donate to Sweetwater in addition to your course fee if you'd like to help us continue our programs. And if you want to get your hands dirty in our gardens you can contribute your time by volunteering Wednesday, Friday, and Sunday mornings from 9-12.