Canning 101– Pickles (Class Full)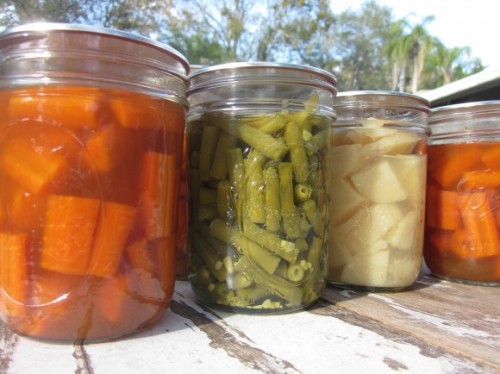 Sunday, January 10th, 1:00-3:00pm
Whether you are new to canning or just need a refresher course, Canning 101 is a great starting point for most students. The focus of this workshop will be safety, equipment, and science as we discuss the boiling water bath technique. Once mastered, this method will enable you to safely and confidently can everything from jams to pickles to fruit! For this workshop, we'll be talking pickles ~ learn all about brine, sweet and dill recipes, and what ingredients would be needed for a successful product. Students will also participate in the hands-on part of the class when we put our knowledge to use and pickle a seasonal vegetable. All supply costs are included in the class fee and students will take home a jar made in the class. And, as always, Lisa will bring lots of home-canned goodies for students to sample!
Lisa Fulk from Sunshine Canning will be teaching this workshop. She started canning as a way to save money and have high quality food on hand for her family. She has since become an avid canner and is a certified Master Food Preserver.
This class is full.  Please check out our event calendar for future workshops and events.