Sweetwater's Celery Queen Caroline Garber! 
You know her and you love her…she may have even taught your kids about the importance of farming and eating vegetables!  This month, Caroline will be educating thousands of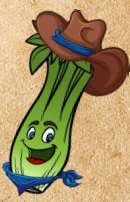 children as the Florida Department of Agriculture and Consumer Sciences' Celery Farmer of the Month!  Let's congratulate Caroline for all that she does for our community!
Read more about our celery queen Caroline…
Like the seasons, change is in the air at Sweetwater!
Sweetwater's very own Program Director, Kaitlin Hennessy is bidding the farm adieu this season, but will be in our Romaine hearts forever!
"I am thankful for the experiences I have had and people I have met here at the farm.  From learning how to drive a Kabota tractor to trying a black Nero radish for the first time, I sure have learned a lot here. Thank you to all the wonderful people who volunteer, support and love the farm. It's been a pleasure."
Humbly hoping to live up to the lofty standards Kaitlin has set here at Sweetwater, Mimi Ghosh is joining the farm as the new Program Manager!
A Tampa native, and St.Pete local, Mimi brings her public health perspective and firm grasp of corny puns to Sweetwater.  She hopes to contribute to the farm's growth, and provide high-quality program experiences for our community!