Greens Galette
This great pie works well with a variety of greens.   Use whatever is in your CSA share for the week (kale, collards, turnip, beet, chard, mustard). Serve it hot or at room temperature.
Ingredients
¾ pound small potatoes, small turnips or a combination, peeled
salt
2 – 2 1/2 pounds of assorted greens, stemmed
2 T. olive oil
1 med or large onion, chopped
2 garlic cloves, minced
½ cup chopped, flat leaf parsley
2 T. chopped dill
Freshly ground pepper
1 cup ricotta cheese
2 large eggs beaten
2 T. milk
¾ cup feta cheese
1 recipe pie crust (home made or commercial)
Directions
1. Peel and dice potatoes and turnips. Steam in a steamer 20 min or until tender. Remove from heat.
2. Bring a pot of water to a boil, add a teaspoon of salt and greens. Blanch for about 2 minutes. Transfer greens to a bowl of ice water. Then drain and squeeze dry. Chop coarsely and set aside.
3. Heat olive oil in a large, non stick skillet. Add onions and cook until tender. Add garlic. Saute 30 seconds. Add potatoes, turnips and greens. Gently toss together. Add salt, pepper and herbs. Transfer to a large bowl.
4. Beat together the ricotta, eggs and milk until smooth. Add to the bowl with the greens, etc. Stir in the feta cheese. Taste and adjust seasonings for salt and pepper.
5. Heat oven to 375 F.
6. Roll pastry into a large circle @16". Transfer to an oiled baking sheet.
7. Place the filling in the center and fold the edges over the filling, draping folds all the way around. There will be an opening in the center.
8. If you want your galette to look especially good, brush the crust with beaten egg and sprinkle with sesame seeds.
9. Bake 45-50 minutes until the crust is golden brown. Cool for 10 min. before slicing to serve.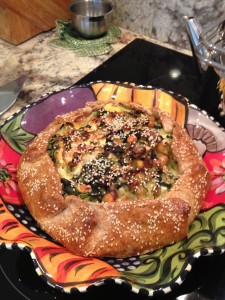 Recipe adapted from "Mediterranean Harvest" by Martha Rose Shulman