Kuku for Greens
As described by Myra Kornfeld (2005) in "The Healthy Hedonist", a kuku is a Persian-style frittata, a light quichelike dish made with a lot of vegetables and just enough eggs to bind them together. It's unlike a frittata or a quiche because it doesn't have a distinctive egg flavor, yet has a light texture. Best of all, kukus make their own golden crust as they bake so they are a bit like a crustless pie. You can make them with or without dairy and with any vegetables you like as long as you cook the vegetables thoroughly before adding them to the eggs.
Ingredients
¼ cup raisins
¼ cup rum or water
2 lbs fresh greens, stemmed and washed
2 T olive oil
½ cup finely diced red onion
¼ cup pine nuts or walnuts
2 cloves garlic, minced
1 t salt
freshly ground black pepper
freshly grated nutmeg
1 cup ricotta cheese
1 cup grated Gruyere cheese
4 eggs, lightly beaten
1 T white flour
½ t baking powder
2T butter, ghee or coconut oil
Directions
1. Preheat oven to 350
2. Combine raisins and rum/water in small pot. Bring to a boil and simmer until liquid is absorbed
3. Place shredded greens in a large skillet. Cook over medium heat, stirring until greens are wilted. Remove greens and place in strainer. Squeeze out any excess water. Chop into small pieces.
4. Warm oil in large skillet. Add onions and nuts and cook until onions are soft, about 6 min. Stir in garlic, greens and raisins, salt and pepper. Stir until heated through. Remove from heat and sprinkle with nutmeg.
5. Transfer to a large bowl and add remaining ingredients.
6. Place 1 T butter in glass piepan and place in the oven to melt the butter. Swirl around bottom and sides of the pan. Add egg mixture. Return to oven and bake uncovered 30 minutes.
7. Remove kuku from oven. Gently scatter remaining 1 T butter on the top.
8. Place dish back in oven and bake another 15-20 minutes.
Unmold the kuku by loosening the edges with a knife. Slide it onto a serving platter and serve either hot or at room temperature.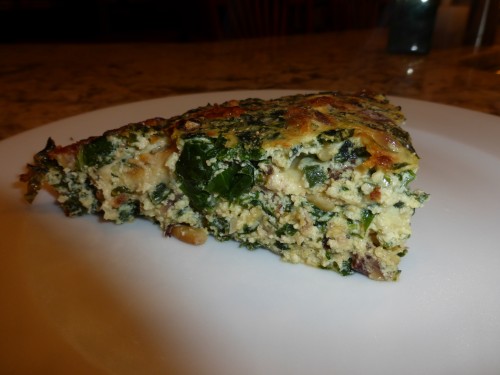 Recipe adapted from "The Healthy Hedonist" by Myra Kornfeld