Beets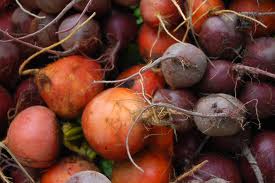 Pronounced "kee-oh-gee-ya." Chioggia beets are also known as Candystripe Beets and Bulls Eye Beets for their red and white alternating rings. After cooking, the flesh turns completely pale pink, which is why it is preferred in its raw form. It matures very early and has a mild flavor, and so requires less cooking time than most varieties of beets.
Both beets and Swiss chard are different varieties within the same plant family (Amaranthaceae-Chenopodiaceae) and their edible leaves share a resemblance in both taste and texture. Attached to the beet's green leaves is a round or oblong root, the part conjured up in most people's minds by the word "beet." Although typically a beautiful reddish-purple hue, beets also come in varieties that feature white, golden/yellow or even rainbow color roots. No matter what their color, however, beet roots aren't as hardy as they look; the smallest bruise or puncture will cause red beets' red-purple pigments (which contain a variety of phytonutrients including betalains and anthocyanins) to bleed, especially during cooking. Betalain pigments in beets are highly-water soluble, and they are also temperature sensitive. For both of these reasons, it is important to treat beets as a delicate food, even though they might seem "rock solid" and difficult to damage.
Beets' sweet taste reflects their high sugar content, which makes beets an important source for the production of refined sugar (yet, the beets that are used for sugar consumption are of a different type than the beets that you purchase in the store). Raw beet roots have a crunchy texture that turns soft and buttery when they are cooked. Beet leaves have a lively, bitter taste similar to chard. The main ingredient in the traditional eastern European soup, borscht, beets are delicious eaten raw, but are more typically cooked or pickled.
The greens attached to the beet roots are delicious and can be prepared like spinach or Swiss chard. They are incredibly rich in nutrients, concentrated in vitamins and minerals as well as carotenoids such as beta-carotene and lutein/zeaxanthin.
While beets are available throughout the year, their season runs from June through October when the youngest, most tender beets are easiest to find.
Storage
Refrigerate beets in a perforated plastic bag, separated from the greens, for up to three weeks. Leave the beets unwashed when storing. When cutting the tops from beets, leave at least 1/2 inch of the stems and at least two inches of the tap root on the beet. If you cut closer to the beet, the color will bleed from the vegetable during cooking. Remember, greens will only last for a few days in the refrigerator so use them within two or three days.
Choose small or medium-sized beets whose roots are firm, smooth-skinned and deep in color. Smaller, younger beets may be so tender that peeling won't be needed after they are cooked.
Avoid beets that have spots, bruises or soft, wet areas, all of which indicate spoilage. Shriveled or flabby should also be avoided as these are signs that the roots are aged, tough and fibrous.
While the quality of the greens does not reflect that of the roots, if you are going to consume this very nutritious part of the plant, look for greens that appear fresh, tender, and have a lively green color.
Cut the majority of the greens and their stems from the beet roots, so they do not pull away moisture away from the root. Leave about two inches of the stem attached to prevent the roots from "bleeding." Do not wash beets before storing. Place in a plastic bag and wrap the bag tightly around the beets, squeezing out as much of the air from the bag as possible, and place in refrigerator where they will keep for up to 3 weeks.
Store the unwashed greens in a separate plastic bag squeezing out as much of the air as possible. Place in refrigerator where they will keep fresh for about four days.
Raw beets do not freeze well since they tend to become soft upon thawing. Freezing cooked beets is fine; they'll retain their flavor and texture.
Preparation & Cooking Tips
Be gentle when washing beets as you do not want to break the skin which will allow nutrients to escape. When trimming, leave at least an inch of the leaf stems attached and do not remove the root. As for the beet greens, wash greens in several baths of cool water to make sure all grit or sand is gone. You want the thin skin to remain intact for cooking. Although beets can be eaten raw, they are generally boiled, baked, steamed, fried, grilled or otherwise cooked before eating. To retain nutrients and color, boil, bake or steam without peeling first. The skin will easily rub off under cold running water after they are cooked. The stem and root are removed after cooking. For best flavor, bake beets instead of boiling or steaming and wrap them in foil to avoid staining.
Try some of the following:
- Grate raw beets for a delicious and colorful addition to salads or decorative garnish for soups.
- Add chunks of beet when roasting vegetables in the oven
- Serving homemade vegetable juice? A quarter of a beet will turn any green drink into a sweet pink concoction,
pleasing both the eyes and the taste buds.
- Sauté beet greens with other braising greens such as chard and mustard greens.
- Marinate steamed beets in fresh lemon juice, olive oil, and fresh herbs.
Tips for Preparing Beets
Rinse gently under cold running water, taking care not to tear the skin, which helps keep the health-promoting pigments inside.
Since beet juice can stain your skin, wearing kitchen gloves is a good idea when handling beets. If your hands become stained during the cleaning and cooking process, simply rub some lemon juice on them to remove the stain.
Cut beets into quarters leaving 2 inches of tap root and 1 inch of stem on the beets.
The Healthiest Way of Cooking Beets
Cook beets lightly. Studies show beets' concentration of phytonutrients, such as betalains, is diminished by heat.
We recommend healthy steaming beets for 15 minutes to maximize their nutrition and flavor. Fill the bottom of the steamer with 2 inches of water and bring to a rapid boil Add beets, cover, and steam for 15 minutes. Beets are cooked when you can easily insert a fork or the tip or knife into the beet.
Peel beets by setting them on a cutting board and rubbing the skin off with a paper towel. Wearing kitchen gloves will help prevent your hands from becoming stained.
Transfer to a bowl and serve with our Mediterranean Dressing and your favorite optional ingredients. For details see 15-Minute Beets.
Beets' color can be modified during cooking. Adding an acidic ingredient such as lemon juice or vinegar will brighten the color while an alkaline substance such as baking soda will often cause them to turn a deeper purple. Salt will blunt beets' color, so add only at the end of cooking if needed.
How to Enjoy
A Few Quick Serving Ideas
Simply grate raw beets for a delicious and colorful addition to salads or decorative garnish for soups.
Healthy Boil beet greens for 1 minute for a great tasting side dish, which is very similar to Swiss chard.
Marinate steamed beets in fresh lemon juice, extra virgin olive oil, and fresh herbs.
Nutrition
The following nutrition information is for one raw beet (82 grams).
Source of Information: Fruitsandveggiesmorematters.org
Beets are unique in their rich combination of betalain pigments. Both betacyanins (red-violet pigments) and betaxanthins (yellow pigments) can be found in beets. Betanin and vulgaxanthin are betalains that have gotten special attention in beet research.
Beets are also an excellent source of folate and a very good source of manganese, potassium, and copper. They are also a good source of dietary fiber, magnesium, phosphorus, vitamin C, iron, and vitamin B6.