SNAP EBT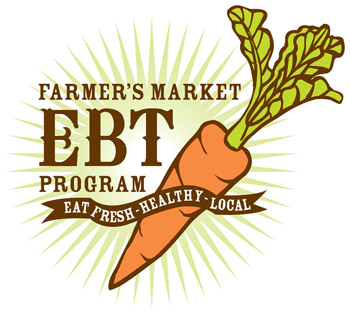 We welcome SNAP EBT Customers at our Sunday Market
Beginning in November 2020, the Sweetwater Sunday Market produce stand and other participating Market Vendors will be able to accept EBT payments from users of SNAP (Supplemental Nutrition Assistance Program).
The SNAP program, formerly known as the Food Stamp program, provides food purchasing assistance for low- and no-income people living in the U.S.  It is a federal aid program, administered by the U.S. Department of Agriculture, under the Food and Nutrition Service (FNS) Administration.
SNAP eligible food items available at the Sunday Market are organically-grown fruits and vegetables, fresh-baked breads, local honey, jams, granola, and food-producing seeds and plants for home gardens.
Double your SNAP Dollars!  
At the Sweetwater Sunday Market $20 in SNAP dollars buys you up to $40 in Florida-grown Produce at the Sweetwater produce stand and other participating vendor booths where Florida-grown vegetables and fruits are sold.  This "double incentive" program, called "Fresh Access Bucks" (FAB) is a program initiated by Feeding Florida, who received a Specialty Crop Block Grant to increase sales of Florida grown fruits and vegetables to Florida consumers.
We hope that by offering SNAP and FAB benefits at our Sunday Market, we can increase access to and consumption of the healthy, organic and locally-grown produce for our surrounding community.
How does SNAP EBT work at the Sunday Market?
1.  SNAP recipients should visit the EBT table (located next to the Sweetwater Produce Stand) and pick up a copy of the SNAP/FAB Shopping Guide.  The Guide will show you which vendors sell products that are SNAP eligible and which vendors have FAB eligible produce.
2.  Look for the SNAP signs displayed at participating vendor booths and shop for the SNAP and FAB eligible items you need.  The Vendor will write up a TICKET with the total of your items, and give you a white and yellow copy.  They will hold your items at their booth while you continue shopping.
3.  When you are finished shopping, you should take both copies of your TICKETS to the EBT table where the cashier will total all of your tickets, divide any FAB-eligible items in half, and then swipe your EBT card for the total amount of all of your items.  You will enter your PIN, and once your purchase is approved, the cashier will mark your yellow TICKETS as paid and you can retrieve your items from the Vendors.
4.  You MUST return to the Vendor Booth with a paid yellow TICKET or you will not be able to retrieve your items.  The Cashier will keep the white TICKET, the Vendor will keep the yellow TICKET, and you will keep the receipt that comes from the POS machine that shows the purchase amount and the SNAP EBT balance in your account.
No cash change is given back in SNAP EBT transactions because the exact amount of the purchase is entered and debited.
We will not do the transaction without your EBT card, unless you would prefer to pay cash.  We will not do the transaction without the PIN.  If you forget your PIN, you may call the toll-free Customer Service Help Line on the back of your card.
What if I don't have enough on my EBT card to pay for all my items?
You can either pay the remaining balance with cash, or we can deduct items from the total and swipe your EBT card again.
Want to know more about SNAP?
Call 1-800-221-5689 or find more information about the program at www.fns.usda.gov/snap
Have questions before you come to the Market?
813-887-4066