Vegetable Curry
Ingredients
About 1 pound of greens (chard, kale, spinach, cabbage – can also add broccoli and green beans)
2 T. sunflower oil
1 large onion, chopped
3 garlic cloves, peeled and diced
1 green chili, seeded and finely chopped
1 inch piece of ginger, peeled and chopped
1 t garam masala
½ t mustard seeds
½ t ground cumin
¼ t ground turmeric
3 cardamom pods, crushed
12 oz new potatoes, quartered
1 cup plain yoghurt
1 ½ T tomato paste
Small bunch cilantro, chopped
Sea salt and fresh ground pepper
Small handful of almonds, toasted and chopped
Directions
1. Prepare the greens by separating the leaves from the stocks and coarsely chop the leaves.
2. Heat oil in a large saucepan, add onions and sauté.
3. Pound together garlic, chile and ginger with a pinch of salt. Add to the onion and cook. Add the rest of the spices and stir for a couple of minutes.
4. Add potatoes and sauté stirring frequently so they are well coated with the spice mixture. Pour in about 1 2/3 cups water or vegetable stock, bring to a simmer, cover and cook for 12-15 minutes until potatoes are tender.
5. Add the greens and stir until they are wilted.
6. In a bowl, whisk together yogurt, tomato paste and some of the hot liquid from the curry. Remove the curry from the heat, stir in the mixture and return to a low heat. If it is too hot the yogurt will curdle.
7. Top with cilantro
8. Serve with brown rice or naan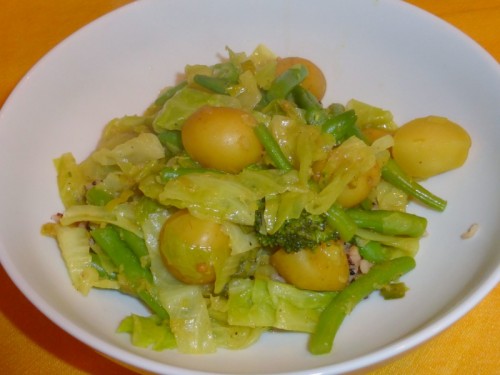 Adapted from River Cottage VEG