Savory Bread Pudding
This "bread pudding" which also might be called a "strata" can be used as a base for any number of cooked vegetables. Simply put, cooked veggies are tossed with stale bread and cheese and then mixed with milk and eggs and baked.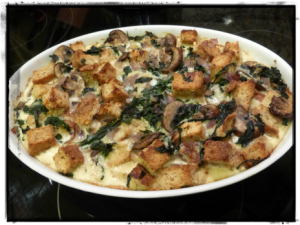 1 bunch kale or other greens (turnip, collard), stemmed and washed
1 Tbs olive oil
1 medium onion, chopped
1-2 cloves of garlic, minced
½ pound mushrooms, sliced
1 tsp thyme
salt and pepper
½ pound stale whole grain bread, sliced and cubed
2 oz Gruyere cheese, shredded
1 ounce Parmesan, grated
4 eggs, beaten
2 cups milk
Bring a large pot of water to a boil, salt generously and add greens. Cook 2-3 minutes. Transfer to a bowl of cold water, then drain and squeeze out excess water. Chop and set aside.
If using garlic, cut one clove and rub over the surface of the bread slices. Cube the bread. Mince the garlic. Also chop the onion.
Heat oil over medium heat in large skillet. Add onion and sauté 5 minutes. Add mushrooms and cook 5 minutes. Add garlic, thyme, salt and pepper to taste. Stir in kale/greens and toss together. Remove from heat.
Preheat oven to 350. Butter a 2 quart baking dish. In a large bowl combine bread, vegetables and cheeses. Transfer to baking dish.
Beat together the eggs and milk and pour over the bread mixture. Let sit for an hour so the bread can absorb some of the liquid.
Place in oven and bake 40-50 minutes until puffed and brown. Serve warm.
Adapted from nytimes/cooking.com
Martha Rose Shulman