Bean and Grain Soup (with Sweetwater Veggies, of course)
The recipe featured here incorporates several Sweetwater-grown veggies: carrots, turnips and kale. With some beans and grain (in this case I used farro) this makes for a hearty dinner when accompanied by some great bread and a salad.
Ingredients
3 cups vegetable stock
¼ cup grain (spelt, barley, faro – whatever you have that sounds good to you)
A few leaves of kale, cabbage or other hearty greens
1 carrot, peeled and diced
6 small turnips, peeled and diced
3 oz frozen peas
1 can cannellini or other white beans, drained and rinsed
sea salt and freshly ground pepper to taste
extra virgin olive oil, to finish
Directions
Bring stock to a boil, add grain and lower heat. Simmer 15 min or until grain is tender.
Shred greens coarsely.
Add carrots, turnips, peas and beans to the broth. Cook 10 min. Add greens and cook another 2-3 minutes. Season with salt and pepper.
Ladle into bowls and drizzle with olive oil.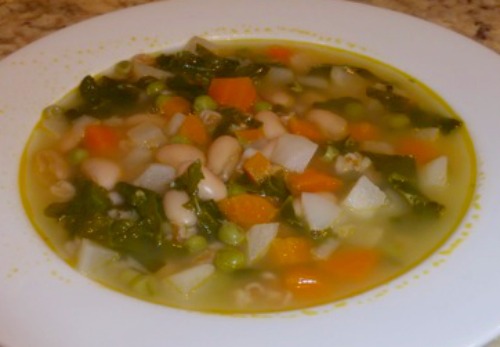 Adapted from River Cottage Veg by Hugh Fearnley-Whittingstall