Sweetwater paints the farm in Graffiti! …
… Cauliflower, that is!  Spring vegetables are almost in full bloom here at the farm as our practiced farmers prepare to painstakingly pick pretty, purple produce for you to prepare!  But, Graffiti isn't the only color of cauliflower you will be delighted to eat soon, yellow Cheddar cauliflower,  white Skywalker cauliflower, and green  Romanesco cauliflower will all be in bloom soon just in time for the Spring!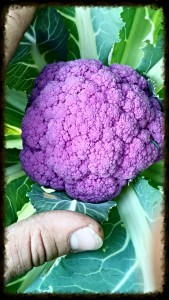 Around The Farm:
It's tough working on the weekends, but during harvest season, our farmers work seven days a week!
The farm is such a wondrous place, anything can happen here.  To maintain a farm, farmers have to be vigilant about what Mother Nature's up to because any slight change in the weather can affect the growth of our vegetables.
We love what we do, here at Sweetwater, and we wouldn't have it any other way.  Our farmers love it even more when you show them how much you appreciate them and their hard work!  So, whether you're picking up your CSA share, or enjoying the farm-fresh produce and festivities at our Sunday Morning Market, be sure to thank a farmer!  Or, go ahead, ask for a hug!